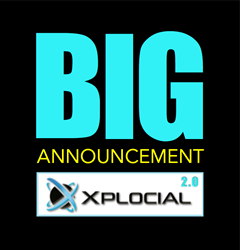 With Xplocial's Lifetime Membership Savings Program, families can save thousands of dollars every year on products, benefits and services that they're already using.
Melville, New York (PRWEB) August 25, 2014
Xplocial, a Melville, New York based company, announces the launch of their new Xplocial 2.0 Lifetime Membership Savings Program. The program is designed to help save an average family of four over $9200 per year, for life, on name brand products and purchases.
With Xplocial 2.0, families save 10% to 60% on everything from movie tickets, groceries, restaurants, home appliances, Panasonic products, Hewlett Packard products, Office Depot products, 6 Flags Amusement Parks, Target, Best Buy, Walmart, Home Depot, Budget Rental Cars, dental, holistic care, chiropractic care, prescriptions, eye glass wear, hearing aids and more.
Darren Little, a member of the Xplocial Advisory Board, states: "In today's times of economic uncertainty and corporate downsizing, many families are living off of their credit cards just to pay for their basic monthly needs. Xplocial 2.0 is the answer to help these families save thousands of dollars on the products and services they are already purchasing every single month."
Xplocial 2.0 members can log-in to their members site, choose from thousands of retail outlets throughout North America, choose the particular brand or discount, print out the offer and receive the discount upon purchasing the particular item.
For grocery shopping, members can log-in to their members site, click each item that they will be shopping for, click on print - and all of the products discounts are printed conveniently on a sheet of paper to hand to the clerk upon grocery checkout. It's simple, easy and affordable for the average person to start experiencing huge savings.
Xplocial 2.0 also helps families save on automobile purchases, home purchases, vacations, lawyers fees and even protects it's members with 24 hour road side assistance, identify theft protection and 24 hour doctor on call in case of any type of family emergency.
Xplocial 2.0 Basic Membership option includes a broad range of shopping discounts, rebate programs, restaurant discounts, vacation certificates and more. This is a pay-as-you go monthly membership. There are no ownership or lifetime access options. The cost is $99 to get started and $49 a month and be cancelled at anytime.
Xplocial 2.0 Premier Membership - the ultimate in savings and lifestyle benefits. There are two ways for members to pay.
1. Premier Members make a small down payment of $199 and then pay just $129 monthly.
2. Fast Start Premier Members - Save almost $500 on the cost of their membership by making a down payment of $399 and paying just $99 monthly.
Either way, Premier Members make just 24 payments. That's it. No interest, no credit application, no closing costs and no commitment. And if for any reason the Member's financial situation changes and they can't continue their membership, they can cancel at any time with no questions asked, no penalties and no extra charges.
Xplocial 2.0 also offers an affiliate program where just 88 Premier Members can generate commissions in excess of $100,000 per year.
For more information, contact:
Darren Little
Xplocial Advisory Board Member
604-771-1901
SKYPE: DarrenLittle11
darren(at)darrenlittle(dot)com