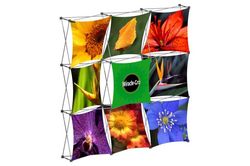 Denver, CO (PRWEB) June 7, 2010
Trade Show Emporium is proud to announce Xpressions trade show displays to their line of products. Xpressions are a 3-dimensional, stunning and unique display. They are extremely lightweight and portable, making it the perfect choice for trade shows, media presentations, showrooms, sporting events, corporate meetings and conventions and more.
Possibly one of the easiest trade show displays to assemble, Xpressions SNAP! displays have pre-attached fabrics and strong magnetic connectors, locking the frame automatically. Set up is extremely effortless and no tools are required. Changeable graphics are printed on durable stretch fabric. The dye sublimation printing process results in brilliant color saturation and excellent image quality. Plus, the fabric is completely machine washable.
For a complete display on the go, the Xpressions Xpress kits are offered in four different kits, with two 1x3 frames, several Xpression graphic skins, plus a case in wheels with maximum storage. It quickly converts to a podium with a huge graphic case wrap, making it a functional and attractive part of the display. Perfect for a 10x10 space, or combine two for a 10x20 space.
The trade show industry is making a turn for the better, as many products are emerging made with recycled and environmentally friendly materials. The Xpression displays are no exception. Trade Show Emporium also offers an alternative "green" recycled fabric option for Xpression kits. The fabric is made from recycled soda bottles and is completely recyclable when no longer needed.
To learn more about Xpression trade show displays and many other options available for trade shows, contact Trade Show Emporium.
###