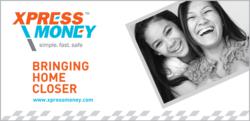 "As per a recent World Bank Report, Japan is amongst the top 20 remittance sending countries in the world. Naturally, this makes Japan a crucial market for any remittance business to be present in."
Tokyo, Japan (PRWEB) May 24, 2012
Xpress Money, one of the fastest growing money transfer companies in the world, today announced collaboration with Japan Money Express– Japan's leading financial institution to offer remittance services in the country. This tie-up marks the entry of Xpress Money into Japan, where customers will be able to send money through JME across the ATM networks in Japan and Japan Post Office cash machines.
Japan is one of the key countries for sending remittances in the world; through this collaboration with JME, Xpress Money will be able to offer its convenient Outbound Remittance services in Japan. Remitters can send money back home through Xpress Money by walking into any of the JME agent locations, or over 30,000 ATMs and cash machines in convenience stores and post offices located across Japan; the amount can be received instantly across the globe from any of Xpress Money's 135,000 agent locations.
Mr. Sudhesh Giriyan, Head of Xpress Money business, said: "As per a recent World Bank Report, Japan is amongst the top 20 remittance sending countries in the world; with an expatriate population that's above 2.2 million, it sent remittances over 4.1 billion USD in 2010. Naturally, this makes Japan a crucial market for any remittance business to be present in. We are extremely happy to have collaborated with our esteemed partners Japan Money Express, to offer our services in Japan."
Said Mr. Aryal, Managing Director, Japan Money Express. "We have started to look beyond the Nepal market and partnering with Xpress Money enables us to do that, now we can readily expand to other markets in Japan and improve the lives of even more people."
Commenting upon the importance of this alliance, Mr. Joel Candy, Head of Business Development for A-PAC region said, "At Xpress Money, we are committed providing the best value to our customers, whether they are the ones sending the money or receiving it; this alliance JME is a step in the same direction. This tie-up will help the people of Japan - both expatriates and residents in sending and receiving money with greater ease; we will continue innovating with our service offerings so that more people can benefit from them in the future."
Xpress Money will be offering its Outbound Remittance/ Send services in Japan. During remittance, senders will be provided with a unique 16-digit Xpress Personal Identification Number (XPIN) that they need to share with the beneficiary. Once the amount is credited, the senders will receive a confirmation via SMS.
About Xpress Money:
Xpress Money is a global money transfer brand with a thriving presence in more than 125 countries in 5 continents across 135,000 agent locations across the world. Working towards the goal of Bringing Home Closer to millions of migrants residing away from their homes, Xpress Money has come to be known as the most dependable international money transfer brand. Xpress Money provides its customers a simple, fast & safe way to transfer money anywhere in the world through innovative technology, superior customer service and its extensive worldwide network. For more information, visit Xpress Money
About Japan Money Express:
Japan Money Express Co. Limited or JME in short is a legitimate worldwide money transmitter. It is formally registered with the Government of Japan and has obtained license from local finance bureau to operate abroad remittance business from Japan with the registration No. of 00006. Its central office is located at the heart of Tokyo, the capital city of Japan. JME offers an easy, reliable and speedy channel to its members and customers to send money from Japan to Worldwide. JME has an affiliation with almost all major banks of Japan, which gives it access to collect money from any part of Japan with the help of the widespread networking of these banks. Besides the bank networks, JME has 4 collecting locations in different parts of Japan.