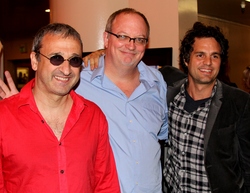 "With Small Days, Stan's made one of those rare movie gems where the actor moments are so rich it gives you reason to return to the cinema." -Director, Academy Award Winner, Milton Justice
Los Angeles, CA (PRWEB) April 6, 2011
With Paramount's low budget division now in full swing, and "Backstage" and "The Wrap" reporting that Lionsgate is also placing particular emphasis on micro-budget films, it's no wonder Stan Harrington and his company Xristos Productions are showing up in more familiar places. Already a force in the independent festival circuit , April will now see Harrington slide into two very mainstream arenas; NBC, as part of the Action On Film Show, April 23rd after SNL; and the National Association of Broadcasters (NAB) in Las Vegas, April 9th thru14th , for the release of his award winning documentary, "So You Want Michael Madsen?" He will also be appearing live, April 12th at the NAB Store located in the Main Lobby of the Convention Centre where he will sign copies of the dvd.
So You Want Michael Madsen? (The Filmmakers Dilemma) is a documentary that deals with getting name talent in low budget indies. It seems to be the main goal if there is any desire for distribution. But watching Harrington's documentary you realize that not only will celebrities do low or no budget films, it is (ironically) for the reasons Stan has always maintained and stayed true to…the art…the great scripts or roles that may be offered.
April 23rd viewers will get a sneak peak at Harrington's newest feature, the mystery, "Perception". NBC's Action On Film Show will show a teaser for the film about to go into production. While mainstream Hollywood has been playing safe with Re-makes, sequels and prequels, Harrington has been scoring countless awards with original, crafted content and attracting the attention of pros like long Time Head of Casting at MGM, Joe D'Agosta, who sneaks out of retirement to act as casting consultant. "We're still on the hunt for a powerhouse actor in the 65 to70 age range", states Harrington. Regarding his involvement D'Agosta's states…
"He just gets you excited. His enthusiasm is infectious. He's a movie making machine with impeccable writing. Guys like Stan come along once every 20 years. You can't help wanting to be a part of the ride."

Joseph D'Agosta (FMR) Head of Casting, MGM
"Small Days", an "LA Times" critic's choice as a stage play, was written by Timothy McNeil and was originally directed for the stage by Mark Ruffalo. Harrington stepped in the direct the feature as Ruffalo and another cast member from the play, Christopher Thornton, went on to shoot the Sundance winner, "Sympathy For Delicious". Says Harrington. "I'm interested in the best stories and if someone else writes it, that's okay with me. I know the industry gets infatuated with the Paranormal Activity and Blair Witch movie type concepts when they hit, but concept is so much harder to re-capture. Great writing is something you either you have or you don't and fortunately something I'm known for. The advantage with Tim and myself is that there is a long track record of great stories and once we move into the mainstream the chances of repeating are far greater".
Finally, on April 29th, "Small Days" along with yet another Harrington feature,"Creed" will screen in their entirety at Indie Fest USA in Garden Grove, California at 6pm and 8pm. click here for reservations.
And that's just April...upcoming collaborations with Atlanta based filmmaker, Kely McClung continue to push the envelope and raise eyebrows with features like "Kerberos" and "Altered"
"Stan is an artist first, his movies are works of art. Not just film, not just stories and not just indie, his work, his collaborations are something more. He forges ahead regardless of budget, regardless of obvious challenges and constraints"

Del Weston, Exec Prod, AOF Show, NBC
###