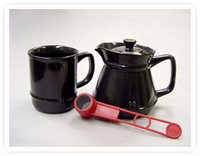 The Xtrema Tea Potle yields better-tasting water with no harmful trace metals & retains heat longer than conventional teapots.
Toms River, NJ (PRWEB) December 8, 2009
Ceramcor's Xtrema Teaware announces a first-of-its-kind teapot for all types of tea drinkers! The newest advancement in teapot innovation, the cleverly-named Tea Potle® boasts all the advantages of other teapots - lightweight, easy to clean, stylish, heat retentive - without the harmful side effects of the leeching metals their comprised of. Made of 100% inorganic ceramic materials, the Tea Potle® is surprisingly lightweight, stylishly sleek, versatile, and contains no elements of toxic heavy metals.
Some prefer it southern-style - iced and extra sweet. Others skip the sugar and enjoy the flavors au-natural. It's coffee's biggest competition and boasts more health benefits than most other steamy swills. Chamomile, Green, Black, English breakfast, Chai - the options are seemingly endless.
An uncomplicated, refreshing drink enjoyed all over the world, tea is becoming increasingly popular for its simplicity and its numerous health benefits. From herbal tea enthusiasts to sweet tea addicts, those who reap the benefits and good taste of tea probably know the simple steps to creating a nice cup of Earl Grey. First boil, then steep, and in minutes tea is served.
As important as the process, is the teapot itself. The teapot can be the determining factor in whether or not your tea experience is a success. First of all, as any tea connoisseur knows, it is important for water to be free of the heavy metal taste. Demand this of a cast-iron, aluminum and stainless steel teapot, and you're bound to be disappointed. And once the water is heated, it's important for the teapot to maintain the water's proper temperature. Relying on aluminum and stainless steel teapots to keep tea steaming may have you sipping room-temperature Rooibos in minutes.
Teapots can be found to match any type of kitchen décor, from a retro-style red to mountain-cabin cast iron. Chances are, if you're into tea, your teapot is a reflection of you. Consider the harmful toxins these pots leach, and you may want to consider a new form of self-expression. Pots comprised of materials such as Aluminum, Cast Iron and Stainless Steel are known to leach harmful heavy metals - not only contaminating the water inside, but also giving the water an unpleasant metallic taste.
It seems impossible to find a teapot whose qualities are pleasing on all accounts…
Long behold the newest advancement in teapot innovation: Ceramcor's Xtrema Tea Ware - formally, the Tea Potle®. A cookware company claiming their Tea Potle® encompasses all the qualities of a perfect teapot. Or rather, as the clever name suggests a teapot and tea kettle combined into one pot, a Tea Potle.
Ceramcor's Xtrema line of cookware, bakeware and now tea sets itself apart from the others simply based on the composition of their products. Ceramcor products contain no elements of toxic heavy metals and are made entirely of 100% inorganic ceramic materials from our Earth's crust.
Made of high-temperature ceramics that produces Far Infrared Energy, the Tea Potle® guarantees better-tasting water with no harmful trace metals. Because of its ceramic composition, the Tea Potle® also heats quicker and retains heat longer than teapots composed of metal materials.
Victimized by a ruined teapot after boiling it dry? The Tea Potle® can withstand temperatures of up to 2500°F, making it impossible to overheat. Boil dry an aluminum or stainless teapot and the results will be much more damaging.
And for the trendy folks, let's not forget style. Fortunately, Xtrema's Tea Potle® won't force fashionistas to sacrifice personal style. The Tea Potles® simple design and sleek look will compliment any kitchen décor. The product line even offers the Swirl Tea Potle® -- if you're craving something with a little more attitude.
The Tea Potle® is environmentally friendly, too.
Ceramcor products are made of the Earth's natural minerals and water; the entire product's surface is also finished with a high-gloss, solid-black non-toxic and non-scratch ceramic glaze.
Even Ceramcor's manufacturing process is Earth-friendly, being handcrafted by highly skilled artisans, rather than using destructive environmental mining and an energy-intensive manufacturing process. All Ceramcor products are made using clean burning natural gas-fired kilns.
Maybe it's the name or the sleek design; or maybe it's more a taste thing. Regardless, Ceramcor guarantees your satisfaction with its new Tea Potle®. Where else can you find a 50-year warranty? That's confidence -- and rightfully so.
###