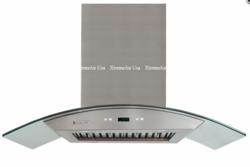 the steel is non-magnetic, which prevents the attraction of dust particles to its surface and as a result it prevents the buildup of gunk overtime
Aiken, SC (PRWEB) January 10, 2013
In an effort to expand and diversify its inventory, Warehouse USA has added three new models of XtremeAir island mount, range hoods.
XtremeAir island mount range hoods are crafted from 19 gauge stainless steel in satin finish; they also come equipped with dishwasher safe stainless steel baffle filters. The stainless steel used in the hoods construction is austenitic; this means that the steel is non-magnetic, which prevents the attraction of dust particles to its surface and as a result it prevents the buildup of gunk over time. Another feature of the austenitic steel that is worth mentioning is its high rust resistance; this is a welcome characteristic especially since the range hoods are exposed to extremely moist conditions in kitchen environments.
The motor used in XtremeAir range hoods is ultra-quiet and capable of moving up to 900 cubic feet of air per minute. There are 4 preset motor speeds that are controlled by touch sensitive buttons; the current motor speed setting is displayed on the LCD panel. The noise levels produced by the blower range from 35 dB to 67 dB; this can be compared to a noise ranging from a quiet conversation (35 dB) to a normal conversation (60 - 65 dB).
The model PX01-I36 has a 35 1/2" wide by 23 5/8" deep canopy made out of 5/16" thick tampered glass. The telescopic chimney extension extends from 23" to 42" (measured from the top of the canopy). The range hood is designed for 8 to 9 feet ceilings; however the measurement that needs to be taken into consideration is the distance between the cooktop and the bottom of the canopy which is recommended to be between 26" and 30" for efficient air evacuation from the cooking area.
The model PX01-I42 has a 41 1/2" wide by 23 5/8" deep canopy made out of 5/16" thick tampered glass. All other characteristics are the same as of the aforementioned model PX01-I36.
The last XtremeAir model added recently to Warehouse USA's inventory is PX04-I36, which has a rectangular canopy 35 1/2" wide X 23 5/8" deep. This model shares all other characteristics with the model PX01-I36.
All XtremeAir kitchen range hoods are available at Warehouse USA – http://warehouse-usa.com; they are on sale with free shipping throughout 48 contiguous states. For more technical information or if in doubt please don't hesitate to call 888-693-8066.
# # #