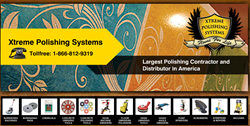 Xtreme Polishing Systems offering $300 in free machine tooling with the purchase of any floor grinder.
Deerfield Beach, FL (PRWEB) January 15, 2013
Xtreme Polishing Systems, a renowned floor polishing company, announces winter special discount for its customers on starter business packages. The company has taken out lucrative deals that include $300 in free machine tooling with the purchase of any concrete grinders or starter package with a starting price of $4995.
One can opt for the easy finance option to avail the package on monthly installments as low as $125 per month. Xtreme Polishing Systems offers a wide range of concrete polishers, concrete floor grinders, floor buffers, floor scrubbers and propane burnishers to choose from. These machines are apt for both maintenance and restoration of granite, marble, polished concrete floors and stone. Apart from the utility, the customer can also be certain of the quality of products XPS sells and services. In fact, for complete customer satisfaction, the experts maintain a team of experienced service personnel and staff who can help the users in picking the right grinder, polishers or burnishers for the job.
XPS concrete floor grinding and burnishing machines are treasured by thousands of users across the world. The gear comes in a variety of sizes and versions, depending on the customer's demands and needs. XPS machinery is just as effective for floor preparation as it is during floor polishing. When combined with the right diamond tools, customers have a comprehensive system that guarantees that the job will be completed with the best economy and the result.
Based upon considerable R&D, experience, and testing, XPS offer an array of diamond tools to cover different kinds of procedures. There are tools suitable for rough grinding, high gloss polishing, and scarifying of the concrete. Every single product has an explanation of the primary application.
Users can also buy accessories that help in producing the best final result. These accessories include, matching polishing pads and chemicals to be used for grinding and cleaning.
With more than 15 years of experience, all products and services offered by Xtreme Polishing Systems set a standard for floor maintenance all over the world. To make sure that the products will maintain the best quality level the experts work in a homogeneous environment and with constant improvement. Users can visit the company's website at http://www.xtremepolishingsystems.com to learn more about polished concrete floor solutions and discounts on start–up packages.