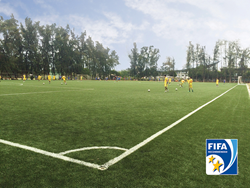 The players at Ho Chi Minh City University of Sport are the first in Asia to enjoy this newest generation in 3G football turf.
Austin, Texas (PRWEB) October 08, 2015
As players set foot on the new pitch at Ho Chi Minh City University of Sport, they are the first in Asia to enjoy this newest generation in 3G football turf. Featuring the latest synthetic turf technology, the prestigious training academy has set new benchmarks in quality, durability and performance for the region's top playing surfaces.
The sports turf, called Xtreme Turf DX, is manufactured by Act Global at their USA facility under ISO 9001 quality standards. Featuring an exclusive MN Global yarn blend, developed in collaboration with Bonar Yarns, the system will greatly exceed the needs of a top international stadium. It has already been featured in several notable facilities, including Canada's Montreal Olympic Stadium and CSV Apeldoorn in Netherlands.
"We are pleased to offer Ho Chi Minh City University our latest and most advanced synthetic turf, suitable for top talent at this important training facility," said Daniel Clapham, regional sales manager for Act Global. "We are constantly researching, testing and refining our systems to ensure players receive the best in class technology and playing surfaces."
The new pitch will be used more than 50 hours per week by some of the country's top athletes for training and matches. The dual-fibre system offers an ideal balance of player comfort and resilience, with durability testing exceeding FIFA's standards by more than six times.
The pitch was completed with exclusive regional partner Hoang Nguyen Company, a leading installer for top-end football fields in Vietnam. The synthetic turf was finished with performance infill imported from Genan in Denmark, before passing stringent field testing to be certified to elite FIFA Two Star level. This is Act Global's fourth FIFA Certified field in partnership with Hoang Nguyen.
As a FIFA Preferred Producer for Football Turf, Act Global has been a leader in bringing high-quality artificial turf to Vietnam and throughout Asia. They have supplied 26 FIFA Certified fields within the Asian Football Federation including the first certified fields to Taiwan, Singapore, Malaysia and Vietnam.
"We continue to see demand growth for better performing artificial sports turf in these regions, as buyers recognize that higher quality products produce longer lasting fields, with better performance and safety, and increased playing time to maximize their investment," said Clapham.
ABOUT ACT GLOBAL
Act Global is a world leader in synthetic turf technology, with manufacturing facilities on three continents and sales in more than 70 countries. The company carries a full range of artificial turf products for sports (Xtreme Turf), landscaping (Xtreme Lawn), aviation (AvTurf) and land reclamation (LiteEarth). Act Global is notable for currently being the first company in the world that is a FIFA Preferred Producer for Football Turf, Synthetic Turf Council Certified Manufacturer, World Rugby Preferred Turf Producer, and holds an ISO 9001 certification. Its products have undergone hundreds of independent laboratory tests for quality, durability, safety, environmental soundness, and performance. For more information, visit http://www.ActGlobal.com.