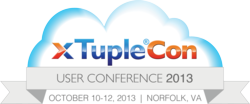 When you meet the xTuple team face-to-face, you quickly understand how important community-oriented culture really is to them.
Norfolk, VA (PRWEB) June 28, 2013
By popular demand, and building on the success of Partner-only conferences in 2011 and 2012, xTuple CEO Ned Lilly invites open source ERP community members to the software company's first global user conference, xTupleCon.
Bringing together the world's #1 open source ERP user community, attendees include customers, value-added resellers, technology partners, and users of the free and open source (FOSS) xTuple PostBooks.
Held at xTuple's downtown Norfolk, Virginia headquarters and adjacent conference hotel, xTupleCon is scheduled for Thursday-Saturday, October 10-12, 2013. Over the 2-1/2 days of xTupleCon, participants enjoy a VIP evening event at xTuple Headquarters, five keynotes from industry leaders, multiple awards honoring community accomplishments, and 36 training sessions covering tracks in accounting, development and business operations. Early bird half-price registration is available through July 15 at: http://www.xtuple.com/xtuple-conference-2013.
Partner Channel Director Danielle Kerner said, "I'm planning productive meetings and lively discussions with our entire partner network represented by consultants from around the world. Our goal is to work with each partner – collaborating individually and as a group – to identify ways to better serve our existing customers while deploying xTuple to thousands more worldwide businesses in the coming months!"
From xTuple customer Keith Rauseo, I/T Manager for EMSEAL Joint Systems, Ltd. (http://www.emseal.com):
"When I saw the announcement about xTupleCon, I instantly thought about travel plans and presentation proposals. Glad to see xTuple has grown its customer base to the point where it's ready to hold its first-ever user conference. Many PostBooks customers may have installed the product and just started running it, learning as they went along. They may not have had a chance to meet with the xTuple folks that customers using the commercial editions have met. When you meet the xTuple team face-to-face, you quickly understand how important community-oriented culture really is to them. Getting together with people from both development and customer sides of the fence, both in formal conference sessions or informal discussions, allows attendees to swap war stories, get ideas, and learn about features they may have missed and new features in the pipeline. I'm excited to see what sessions will be available and I expect to have three terrific days. And Norfolk? An unbelievable city. Nicest people in the world; a fantastic place to walk around, see lots of sights, and have a great meal. You can even tour a battleship!!! It will be an awesome venue, with plenty to do outside the conference if you want to build a long weekend with your significant other around the festivities – that's what I've got planned. I'm looking forward to meeting a whole bunch of xTuplers and getting some info that will help me make my company's xTuple install even better, and having a wonderful time to boot!"
Read about the 2012 xTuple Partner Conference and Awards. https://www.xtuple.com/press/xtuple-partnercon2012-awards
Tweets:
@xTuple: global #opensource #ERP community members gather at World Headquarters to learn, network, honor accomplishments http://ow.ly/m9BQA
About xTuple
xTuple business management software gives growing companies control over operations and profitability. xTuple integrates all critical functional areas in one modular system: sales, accounting and operations – including customer and supplier management, inventory control, manufacturing and distribution – the powerful tools to Grow Your World®.
As a commercial open source company, xTuple works with a global community of tens of thousands of professional users. xTuple gives customers the ability to tailor solutions with multi-platform support for Windows, Mac, Linux and mobile as well as flexible licensing and pricing options. Connect with the company at xTuple.com, with the open source community at xTuple.org, and join the innovation conversation at NextBusinessBlog.com.
xTuple Supports Innovation
From blueprints to buildouts, xTuple helps foster startups in the heart of the Mid-Atlantic technology corridor between Research Triangle, North Carolina, and Washington, D.C. As a committed, passionate member of the Norfolk/Virginia Beach tech community, xTuple is a financial sponsor and mentor at accelerator HatchNorfolk.com, the StartNorfolk.com business-building weekend and other events where entrepreneurs showcase their ideas. Learn more at xTuple.com/events/techmeetup.
Reference the xTuple Style Guide at xTuple.com/xSG