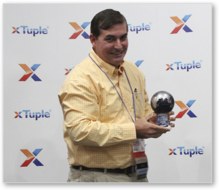 With channel revenue growth of over 50 percent in the last year, Partners are a critical part of xTuple's global growth strategy.
Norfolk, Virginia (PRWEB) January 08, 2013
xTuple, the world's #1 open source ERP, recognized its rapidly growing channel base at the annual xTuple Partner Conference (PartnerCon) with awards for exceptional growth and outstanding service.
xTuple's mission is to help companies of all sizes successfully implement powerful and easy-to-use open source ERP software to grow their business profitably. The company develops customizable business management software for growing companies from startups to Global 1000, specifically accounting, Enterprise Resource Planning (ERP) and Corporate/Customer Relationship Management (CRM), all at an affordable cost.
The 2012 Partner Awards go to:
xTuple Partner of the Year – Alfredo Martinez of Soluciones Empresariales Open
Based on the Yucatan Peninsula of Mexico, Alfredo Martinez first became familiar with xTuple as a customer. After an extensive search to find an affordable, yet flexible, solution to support their growing list of ERP requirements, Alfredo installed xTuple for his former employer, Sitwell Furniture, a major international furniture manufacturer.
Alfredo decided to develop his own consultancy to bring xTuple to other growing companies throughout Mexico. After establishing as an xTuple Partner in 2010, he quickly earned Elite status the following year. Alfredo has successfully sold and implemented xTuple many times, translated the entire xTuple application into Spanish, and made several localization customizations for the Mexican market to ensure compliancy with local tax and invoicing requirements. Alfredo is an active open source community member, offering advice and suggestions whenever needed especially within the xTuple community, including his fellow Partners.
xTuple Outstanding Implementation – Scott Zuke
Scott Zuke of Core Services Group, a highly successful Western Michigan based consulting firm and xTuple Elite Partner, has been involved in ERP implementations since 1994, xTuple implementations since 2006. He truly enjoys working in dynamic and challenging environments. His high degree of technical aptitude, effective problem solving and analytical skills has led him to be a self-motivated, proactive and very customer-focused implementer.
When xTuple landed new customer Alliance Game Distributors (a division of Diamond Comic Distributors, Inc.) — the largest wholesale distributor of tabletop hobby games in the US, the complex implementation was loaded with customer-specific customizations and general enhancements contributed back to the open source core. The best way to ensure a successful implementation was to have a trusted consultant on the ground, leading the way from Alliance headquarters, overseeing a workforce distributed across multiple offices. Scott spent long hours, including many all-nighters, to pull off the outstanding implementation of 2012.
xTuple Rookie of the Year – AKA Computer Consulting
Since 1995, Staten Island, NY-based AKA Computer Consulting has established an outstanding reputation in the NYC Metro and Tri-State area for first-class implementation of (other) ERP and business management systems, innovative and flexible custom software development and an unbeatable dedication to customer service.
President Alex Kleyff dove into his inaugural year of xTuple partnership with both feet, attending all training and pushing forward with a serious marketing plan, sales in his coffer and implementations underway and in the pipeline.
xTuple Top Sales – Next ERP
Mission Viejo, CA-based Next ERP System is a provider of customized cross platform (Mac, Windows & Linux) ERP and manufacturing and distribution software and services, hosting and IT solutions for clients. In business since 1983, each of Next ERP's team of consultants has over 25 years hands-on experience with extensive technical depth in database systems and multiple programming languages. The team has been doing custom ERP implementations since 1984.
An xTuple Partner since 2006 with Elite Partner status since 2011, Next ERP sales revenue was up 80% in 2012 over their 2011 sales. Net new customer growth is up 25% year over year for Next ERP as reported by Danielle Kerner, Director of Partner Channel Development.
xTuple Partner Star – Fred Blauer
A Partner for several years, Fred Blauer has successfully sold and implemented xTuple throughout Montreal and other parts of eastern Canada.
Fred is a very active community member and highly visible on multiple blogs and discussion boards regarding xTuple and open source ERP. He is very active on xTuple forums, answering questions, offering advice. He voluntarily manages the xTuple PostBooks LinkedIn Group. (Note: Fred was unable to attend the Awards ceremony due to a family emergency.)
Presenting the awards CEO Ned Lilly said, "With channel revenue growth of over 50 percent in the last year, Partners are a critical part of xTuple's global growth strategy. We are honored to recognize these accomplishments made by our Partners contributing to xTuple's double-digit growth and for the value they have brought to our customers worldwide."
More information on the xTuple Partner Program may be found at xTuple.com/about/solutionproviders.
More photos at xTuple's Facebook album, PartnerCon 2012.
About xTuple, World's #1 open source ERP
xTuple business management software gives growing companies control over operations and profitability. xTuple integrates all critical functional areas in one modular system: sales, accounting and operations – including customer and supplier management, inventory control, manufacturing and distribution – the powerful tools to Grow Your World®.
As a commercial open source company, xTuple works with a global community of tens of thousands of professional users. xTuple gives customers the ability to tailor solutions with multi-platform support for Windows, Mac, Linux and mobile as well as flexible licensing and pricing options. Connect with the company at xTuple.com, with the open source community at xTuple.org, and join the innovation conversation at NextBusinessBlog.