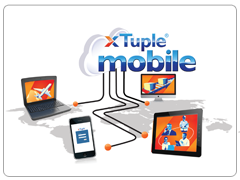 "Our open source business practices and public cloud architecture give our customers the peace of mind that their data belongs to them, and if we don't meet their expectations, they can pack up and leave any time."
Norfolk, VA (PRWEB) December 24, 2012
xTuple, makers of the world's #1 open source ERP software, announced the immediate availability of version 4.0 of the xTuple accounting, CRM and ERP suite. The release marks a milestone for the commercial open source Enterprise Resource Planning (ERP) vendor.
The classic xTuple Desktop client in 4.0 features over 400 new enhancements – including a new Social Desktop featuring integrated intra-company Instant Messaging, Cost Plus Pricing, Enhanced Job Costing and significant enhancements to Projects and Corporate/Customer Relationship Management (CRM). Version 4.0 also includes the first ever Mobile Web client, optimized for a multi-tenant Cloud hosting environment.
Register for First Look Mobile CRM webinar Wednesday, January 9, 2013, 1:15 pm / Eastern Time (GMT-05:00-US & Canada).
Over three years in the making, the xTuple Mobile Web client is a 100% JavaScript, HTML5-based application which works on any modern tablet, smartphone or desktop Web browser. Version 4.0 implements the entire xTuple CRM module in the mobile framework, including contacts, opportunities and pipeline management, to-do lists, projects and incidents/trouble tickets. Over the course of the 4.x product releases, xTuple will make the entirety of its award-winning accounting, CRM and ERP available in the Mobile Web client.
The xTuple Mobile Web client is also fully interoperable with the xTuple Desktop client, which runs natively on Windows, Mac and Linux. Office-bound users can work with the familiar Desktop platform, while sales people can now manage and enrich their customer and prospect relationships from tablets or smartphones – on-the-go, anytime, anywhere.
Mike Rosemire, IT manager for xTuple customer Nordic Naturals and a beta tester for the Mobile Web client, reports, "I find the xTuple Mobile app to be extremely intuitive and easy to use. The app encompasses far more than merely the Web-ification of modules in an existing client. The app is the client portion of a sweeping technology transformation that spans the entire client, server and database spaces. The expanded range of supported devices for xTuple Mobile includes nearly all Web-enabled mobile devices and desktop computers. With the increasing use of mobile devices in business settings, this app is a welcome development. Moreover, with an increasingly dispersed workforce, a Web-based client such as xTuple Mobile unchains a user's location from the location where the xTuple database is hosted. As an added bonus, the xTuple Mobile technology platform has the potential to deliver higher performance to users than the previous technology platform did."
As part of the 4.0 offering, xTuple has also dramatically expanded the capacity of its xTuple Cloud Services – offering the easiest and most cost-effective way to deploy the new Mobile Web client. The technology stack used is a "who's who" of leading open source projects and includes the PostgreSQL open source database, Google V8 JavaScript implemented as a database procedural language, the Node.js application server, the Backbone.js model system and the Enyo HTML5 framework from HP. Current xTuple Cloud subscribers are migrating to the new service at no charge, and xTuple is offering special year-end pricing for customers who wish to be among the first to deploy the new offering. Learn more at http://www.xtuple.com/cloud.
"With the 4 Series and the Mobile Web client, we are extending our position as the most customer-friendly, enterprise-grade open source ERP available," said xTuple CEO Ned Lilly. "Our open source business practices and public cloud architecture give our customers the peace of mind that their data belongs to them, and if we don't meet their expectations, they can pack up and leave any time."
Functionality in the core, free and open source xTuple Postbooks – which includes all of the Mobile CRM features in version 4.0 – is available for download from xTuple repositories on Github and Sourceforge. xTuple Standard and Manufacturing Editions, as well as the premium xTuple Enterprise, add more advanced functionality over the Postbooks core and are available under xTuple's commercial source code license. The xTuple Mobile Web is available under the same open source license as the Desktop client.
About xTuple, the world's #1 open source ERP
xTuple business management software gives growing companies control over operations and profitability. xTuple integrates all critical functional areas in one modular system: sales, accounting and operations – including customer and supplier management, inventory control, manufacturing and distribution – the powerful tools to Grow Your World®.
As a commercial open source company, xTuple works with a global community of tens of thousands of professional users. xTuple gives customers the ability to tailor solutions with multi-platform support for Windows, Mac, Linux and mobile as well as flexible licensing and pricing options. Connect with the company's open source community at http://www.xTuple.org, and join the innovation conversation at NextBusinessBlog.com.