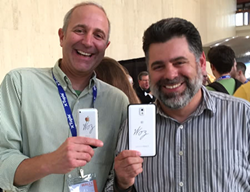 You've got to realize that a lot of the future growth in the economy is going to come from the digital realm. It's going to come from computers. It's going to come from software. [Woz]
Norfolk, Virginia (USA) (PRWEB) November 06, 2014
The success of xTupleCon 2014 is evidence of the business value of open source, declare senior research analysts in attendance at xTuple's second global user conference.
The conference opened with a private reception and talk by headliner Apple co-founder Steve Wozniak ("Woz"), co-sponsored by xTuple and the Norfolk Forum, the oldest publicly-subscribed speakers' forum in the United States. Event attendance grew by 50 per cent over the previous year.
After autographs for xTupleCon14 attendees, Woz regaled the audience with stories of the early days of Apple, and shared his thoughts on innovation and the future of computing. Observant attendees commented on the similar paths followed by Apple, with its introduction of the first personal computers, and open source companies such as xTuple. In both cases, the companies grew and prospered as they built open communities of users and developers, and Woz spoke to the continued opportunity for technology entrepreneurship.
"You've got to realize that a lot of the future growth in the economy is going to come from the digital realm. It's going to come from computers. It's going to come from software," said Woz.
According to attendee Ted Rohm, senior research analyst at Technology Evaluation Center (TEC), the new business paradigm is to take full advantage of small footprint mobile devices for complicated operations in enterprise applications, such as those open source product developments showcased at xTupleCon 2014.
"Not only are these open source products on the leading edge of technologies but the number of open source communities and projects continues to grow—for example, the GitHub repository is reported to have over 3.4 million users as of 2014," wrote Rohm.
"xTuple continues to grow and gain momentum in the highly competitive ERP software space, with a dedicated set of commercial licensed customers and a growing ecosystem of product resellers who are also able to add value to the xTuple proposition. This growth is partly supported by the large base of users who have started with the free and open source software (FOSS) version of xTuple's entry level product PostBooks®, currently used by thousands of organizations. xTuple ERP is accessible to smaller companies but can also scale for mid-size and global organizations (with translations to support 26 languages and multi-currency/multi-site support)," reported Rohm.
More from Ted Rohm, Technology Evaluation Center, on xTuple and xTupleCon 2014.
Keynote speaker Cindy Jutras, president of Mint Jutras and expert in analyzing the impact of enterprise applications on business performance, shared observations on xTuple's research and development (R&D) results and community engagement.
These enhancements provide an "attractive alternative for small companies to move away from entry-level solutions like Sage One (formerly Peachtree) and Intuit's Quicken or QuickBooks at a very low price – maybe even for free!" according to Jutras.
"But xTuple is not just installed in small companies. With companies like Nordic Naturals, UHaul and Good-lite to its credit, it has proven it can also address the needs of larger companies," continued Jutras.
More from Cindy Jutras, Mint Jutras, on xTuple and xTupleCon 2014.
Most popular sessions ranged from intense technical pre-conference workshops to the value of open source technology in business by xTuple Web Services Group manager, Josh Fischer.
"xTupleCon reinforced for all of us the value of a large, strong community of open source ERP users," said xTuple CEO Ned Lilly. "We have already reaped the benefits of engaging with our community of users, customers, and partners through several years of aggressive new product research and development. We look forward to putting that innovation to work with a renewed focus on delighting our customers in 2015."
xTuple's 2014 Community Awards, presented at an event-closing dinner ceremony, included top customer and best implementation of the year, and value-added reseller (VAR) recognition covering top sales, top rookie, and those with accumulated achievements who reached "Elite Partner" status for the year.
Conference Photos:
xTupleCon14's Photo Gallery
Tweets:
Proving the business value of Open Source| LINK #xTupleCon14 #ERP
Woz and ERP analysts weigh in on innovation | LINK #xTupleCon14 @stevewoz @TECtweets @ERP_cindyjutras
About #xTupleCon14
Held in the downtown business district of xTuple headquarters in Norfolk, Virginia, xTupleCon brings together a global community of open source technologists and ERP users to learn, collaborate and innovate. More at xTuple.com/xtuplecon14.
About xTuple, the world's #1 open source ERP
Award-winning xTuple, makers of the world's leading suite of open source accounting, Corporate Relationship Management (CRM) and Enterprise Resource Planning (ERP), is supply chain management software for growing businesses to control their operations and profitability. xTuple integrates all critical functional areas in one modular system: sales, financials and operations — including customer and supplier management, inventory control, manufacturing and distribution – the powerful tools to Grow Your World®. As a commercial open source company, xTuple works with a global community of tens of thousands of professional users. xTuple gives customers the ability to tailor solutions with multi-platform support for Windows, Mac, Linux and mobile as well as flexible licensing and pricing options. Connect with the company at xTuple.com, and join the innovation conversation with the open source community at xTuple.org.
Reference the xTuple Style Guide xTuple.com/xSG