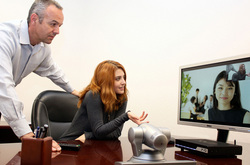 "Espresso HD delivers the kind of experience SMBs want at a price they can afford," said Robert Chan, Vice President of Sales at XVD Corp.
Las Vegas (PRWEB) April 13, 2010
International distributors caught the first glimpse of a new HD telepresence system today at the National Association of Broadcasters (NAB) show that delivers higher quality audio and video performance at a lower price point than existing systems. Unveiled by San Francisco-based XVD Corporation, the Espresso HD codec uses patented, next-generation audio and video technology to deliver lifelike telepresence over T-1 lines.
XVD technology, which represents nearly 10 years of research and development, is currently being used in a number of other solutions that are used in different vertical markets around the world. The new Espresso HD uses the same base technology in an enterprise solution aimed at small-to-medium businesses (SMBs). Already XVD broadcasting solutions are used by NBC and CBS in the US and NHK in Japan. Other technology applications span distance learning, telemedicine, security, surveillance, defense and other government uses in various locations regionally and globally.
Espresso HD offers several advantages over existing enterprise telepresence systems including:

Surprisingly simple ease of use
Ultra-fast set up and installation
Better visual performance than competitive solutions using the same bandwidth
Very low total cost of ownership
"Espresso HD delivers the kind of experience SMBs want at a price they can afford," said Robert Chan, Vice President of Sales at XVD Corp. "People who have had poor quality experiences with video conferencing systems, web-based systems, or even high-end systems that require heavy IT support are very enthusiastic about Espresso HD because they immediately perceive its advantages and unique value proposition."
Espresso HD offers unparalleled ease of use so even non-technical personnel can set it up in minutes. Using its built-in phonebook, launching a videoconference is as easy as making a phone call. Espresso HD also includes a "Live View" feature that allows users to see the live status of other locations, similar to a webcam, which avoids blind calls to absent parties and endless meeting status messages over email, phone, chat, and text messaging.
Unlike some systems that deliver unreliable audio and visual experiences especially at low bit rates, Espresso HD delivers smooth, lifelike telepresence using 1080p HD video over low-cost T-1 lines. The unit is capable of connecting up to five locations locally or globally on a peer-to-peer basis providing greater flexibility and value than traditional multipoint control units (MCUs).
In addition, its visually aesthetic background screen is completely customizable so users can replace the existing start-up screen with their own text, logos, graphics, animations or other digital assets, similar to computer background screens.
Finally, because the Espresso HD sells for less than half the price of competitive systems and requires only low-cost T-1 connections, buyers enjoy faster time to payback and higher ROI while delivering superior performance.
Espresso HD Available Now
Espresso HD has an MSRP of $5,000, and is currently available as a bundle that includes the codec, a Sony EVI-HD1 camera, and ClearOne CHAT 150 for a retail price of $8,600. Additional options are available.
Espresso HD is being sold through US distributors to systems integrators. For information about distribution or unit purchases, contact Robert Chan, VP of Sales at rchan@xvdcorp.com or call 888-680-3808.
About XVD
XVD Corporation, headquartered in San Francisco, markets high performance telepresence systems for the US enterprise market. For more information about Espresso HD visit http://www.xvdcorp.com.
XVD Corporation is the distributor for Shannon, Ireland-based XVD Technology Holdings LTD (XVDTH) which develops and distributes next-generation digital media technologies that leverage global business opportunities across a wide range of vertical markets and applications including broadcasting, distance learning, telemedicine, institutional and corporate media, security, surveillance, defense and other government applications. XVDTH holds 16 patents that are the basis for its advanced XVD™ technologies. For more information, visit http://www.xvdth.com.
Contact:
Robert Chan
VP of Sales
XVD Corporation
888-680-3808
###