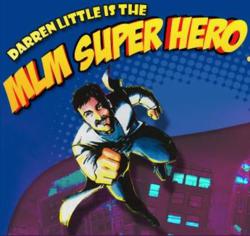 Xyngular™ (pronounced Singular) - is a new and exciting company that is headquartered in American Fork, Utah
(PRWEB) December 17, 2009
Las Vegas, NV Looking for a little zing in your life? MLM Superhero™ - Darren Little has discovered Xyngular™ - the hottest new Super Fruit X Global Blend™ to hit the market. Xyngular™ is flying off the shelves so fast, that distributors are doubling and tripling their initial case lot orders - just to accommodate the demand for this power punched product. Packed with loads of science and research, doctors and scientists are giving Xyngular™ two thumbs up.
Xyngular™ (pronounced Singular) - is a new and exciting company that is headquartered in American Fork, Utah. The company markets an exciting product called Xyngular™. It has a unique blend of adaptogens that balance and normalize the body, insuring that the body can absorb and utilize the nutrients provided in Xyngular's™ Super Fruit X Global Blend™. Used by herbalists for thousands of years, adaptogens offset the damaging effects of stress, pollution, aging and today's active lifestyle.
Faster than a speeding bullet - Xyngular™ is already being sold in 2 countries having just been launched December 1st, 2009. Xyngular™ is expected to leap tall buildings in a single bound and be in a total of 34 countries in 2010. To handle this explosive expansion the company is utilizing the platform of an existing 16-year- old established company with infrastructure, payment processing, currency conversion, shipping and warehousing already in place.
Stronger than a locomotive, the Xyngular™ Management Team has over 140 years of direct sales and network marketing experience, headed up by President - Mr. Marc Walker (formerly the Vice President of International Operations of Xango™).
Once in every lifetime, a company comes along where timing, management, infrastructure and compensation all align. Xyngular™ has all of the components that every major billion dollar corporation has.
Xyngular™ gathered a team of doctors, scientists, and nutritional experts to advise them on the product development. The Xyngular™ management team then searched the world and found one of the most powerful, nutrient dense fruit combination available.
Unique "Singular" Compensation Plan
What makes Xyngular™ so unique is its revolutionary Singular Compensation Plan that combines the benefits of a "driven leg" in Binary Plans with the long term benefits and fair compensation of a Unilevel Compensation Plan. Xyngular™ has taken the benefits of both types of compensation packages and power packed them into one. Xyngular™ is so confident in their product that they offer a money back guarantee on all initial purchases.
Leaders will enjoy the fact that the company offers 12 different leadership pools each paying out 1% of the company's monthly volume - depending on their levels of qualification. Like most other network marketing companies, Xyngular™ Distributors have a number of ways to profit from marketing the company's products including:
1. Xyngular™ Retail Profits
2. Four Levels of Xyngular™ Rapid Rewards on Initial Case Lot Sales of Xyngular™
3. Eight Levels of Xyngular™ Residual Income
4. 12% of Xyngular™ Monthly Sales Volume to Xyngular™ Leadership Profit Pools
5. Xyngular™ Quick Start Bonuses
Leaders from companies such as Monavie, Tahitian Noni and Goji are all joining Xyngular™ to position themselves at the very top of the company's explosive compensation plan.
In its 2008 report, Mintel International, Chicago, IL, publisher of "Functional Beverages US" noted that the functional beverage market was worth a little more than $10 billion in 2007, exhibiting 15% growth between 2003 and 2007.
Now is the time to take ACTION and START your Xyngular™ business with a BANG!
Call MLM Superhero™ - Darren Little to take your Xyngular™ business to "Superhero status".
Remember that timing is everything!
24 Hour Sizzle Call: 801-877-1886
Call for conference call and webinar times
Darren Little MLM Superhero™: 604-771-1901.
Skype: darrenlittle11
About Darren Little: Darren Little is a 15-year veteran and trainer in the Network Marketing and Direct Sales Industries. He is the co-author of MLM Affiliate Magic™ and a contributing author to Chicken Soup for the Network Marketer's Soul with Jack Canfield and Mark Victor Hansen. He has shared the stage with Anthony Robbins, T. Harv Eker, Dr. Lee Pulos, Dr. Dov Baron and Jim Rohn just to name a few. Darren teaches Network Marketers the importance of personal branding and how to generate an endless supply of free leads for their businesses. Darren's students learn strategies on how to generate multiple streams of income by creating marketing funnels and automated systems.
# # #