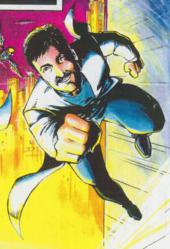 (PRWEB) March 31, 2010
Xyngular Corporation™ - Faster than a speeding bullet. Able to leap large countries in a single bound. It's MLM Superhero! Announcing yet another international expansion into "the land down under" with Xyngular™ starting on May 1st, 2010.
According to a spokesperson for the company, Australia and New Zealand are just the beginning of what the company claims will be an aggressive international expansion strategy for Xyngular™ with a goal of opening one country per month in 2010 and beyond.
Xyngular Corporation™ launched December 1st, 2009 and came out of the gate with a bang. Sales in January topped $600,000 and by February sales were up an additional 15% to over $680,000. In March 2010, the company began making their plans for expansion into Australia and New Zealand, setting the official launch date for May, 2010.
Australia and New Zealand are considered to be "The Gateway to Asia". The population of Australia is estimated to be 22,197,379 as of 23 March 2010. Australia is the 51st most populous country in the world. Its population is concentrated mainly in urban areas.
New Zealand's economic involvement with Asia has been increasingly important through expanding trade with the growing economies of Asia. New Zealand is a "dialogue partner" with the Association of South East Asian Nations (ASEAN) and an active participant in APEC. On April 7, 2008 New Zealand signed a free trade agreement with China, the first developed country to do so. The population of New Zealand is approximately 4,330,000 as of 23 March, 2010.
Xyngular™ is currently approaching 13,000 distributors primarily in Canada and the United States. The Company currently markets a number of products, including a Super Fruit Global Blend, a high octane - high energy weight loss product called Xyng™ and a line of revolutionary weight loss products called
Core 4™.
Revolutionary Straight Line Compensation Plan
What makes Xyngular™ so unique is its revolutionary Singular Compensation Plan that combines the benefits of a "driven leg" in Binary Plans with the long term benefits and fair compensation of a Unilevel Compensation Plan. Xyngular™ has taken the benefits of both types of compensation packages and power packed them into one. Xyngular™ is so confident in their product that they offer a money back guarantee on all initial purchases.
Leaders will enjoy the fact that the company offers 12 different leadership pools each paying out 1% of the company's monthly volume - depending on their levels of qualification. Like most other network marketing companies, Xyngular™ Distributors have a number of ways to profit from marketing the company's products including:
1. Xyngular™ Retail Profits
2. Four Levels of Xyngular™ Rapid Rewards on Initial Case Lot Sales of Xyngular™
3. Eight Levels of Xyngular™ Residual Income
4. 12% of Xyngular™ Monthly Sales Volume to Xyngular™ Leadership Profit Pools
5. Xyngular™ Quick Start Bonuses
Leaders from companies such as Xango™, Monavie™, Tahitian Noni™, Goji™ and Xowii™ are all joining Xyngular™ to position themselves at the very top of the company's explosive compensation plan.
In its 2008 report, Mintel International, Chicago, IL, publisher of "Functional Beverages US" noted that the functional beverage market was worth a little more than $10 billion in 2007, exhibiting 15% growth between 2003 and 2007.
Now is the time to take ACTION and START your Xyngular™ business with a BANG!
MLM Superhero™ is currently expanding globally with Xyngular™ in a multitude of countries. We are a team of highly successful business owners and entrepreneurs that seek to partner with other like minded entrepreneurs, direct sellers, network marketing trainers, mentors and coaches to be part of the fastest growing global marketing organization in Xyngular™.
For more information contact:
Darren Little
Founding Member
Xyngular Team Nitro™
Millionaire Mentor and
Online Business Success Coach
604-771-1901 Cell
801-877-1886 Xyngular Sizzle Call
darrenlittle11(at)hotmail.com My email
Chat Skype: darrenlittle11
About Darren Little: Darren Little is the President, CEO of MLM Superhero. He is the co-author of MLM Affiliate Magic and a contributing author to Chicken Soup for the Network Marketers' Soul with Jack Canfield and Mark Victor Hansen. He has shared the stage with Anthony Robbins, T. Harv Eker, Dr. Lee Pulos and Dr. Dov Baron just to name a few. Darren teaches Network Marketers the importance of personal branding and how to generate multiple streams of income using the internet.
###