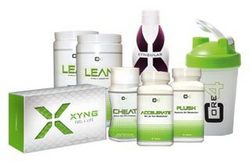 Xyngular is one of the only companies I have seen with no structural qualifications" stated MLM Leader Bystrik Kacer in a recent interview, "You bring in volume, you get PAID.".
Chicago, IL (PRWEB) September 24, 2010
On October 1st, 2010 Xyngular™ Corporation will enter into the European market for the very first time. Timing is to network marketing what location is to real estate. This is a time that can never be repeated again in history. History proves that people that are positioned right in the beginning of the roll-out of a new country have the greatest opportunity to gain momentum the fastest.
From now on it will be possible to purchase and also distribute the great products made available through Xyngular™ and to capitalize on the opportunity that Xyngular™ offers.
Thanks to the company's president, Marc Walker, who initiated the strategic growth by acquisitions model, Xyngular™ has unprecedented opportunity to become one of the most explosively successful companies in the history of the network marketing industry.
What is Xyngular™? Xyngular™ is a company focused on the production of natural health and wellness products including anti-oxidant defense for the body, energy and weight loss. The product line includes Xyngular™ Superfruit Global Blend, Xyng™ – Fuel for Life and Core4™ - a new system of losing weight without changing diet or exercise routines. All products have Xyngular's 30-day, 100% money back guarantee.
Superfruit Global Blend
With this delicious blend you have the opportunity to gain plenty of vitamins and nutrients that help your body flourish. It brings powerful antioxidants and phytonutrients to fight against the free radicals, and sustain your body in an overall health. It is one of the strongest and most efficacious antioxidant defense systems in the market today.
Xyng™ – Fuel for life
A powerful blend of herbal ingredients, vitamins and minerals designed so that you could achieve your weight loss goals , control your appetite, increase your physical energy and evoke a euphoric feeling of excitement and positive mental clarity.
Core4™
A brand new and revolutionary system for losing weight based exclusively on natural components that contain clinically tested and patented products bringing amazing results! Core4 allows you to take control of your weight and your heath at the same time. People experience impressive weight loss results without changing their nutrition, working out or cutting out the foods they love to eat.
What brings so many leaders from other companies operating in the network marketing industry to the decision of partnering with the Xyngular™ opportunity? The answer may be the products that work but ultimately it's the one-of-a-kind compensation plan.
Xyngular's™ unique compensation plan rewards people for their effort but also allows them to participate in the success of the entire company. Xyngular™ pays it's distributors daily and places all new distributors, date and time stamped, into a single straight line. All current distributors override the volume of every new incoming distributor. Xyngular™ combines the benefits of a single line "driven leg" similar to binary plans with the long term benefits and fair compensation of a Unilevel compensation plan. Xyngular™ has taken the benefits of both types of compensation packages and power packed them into one, creating the most powerful and fair compensation plan in the industry. Xyngular™ prides itself in it's distributor retention rate and the amount of distributors that earn income quickly.
Distributors will enjoy the fact that the Xyngular™ takes 12% of the Xyngular's™ revenue and places it into 12 different leadership pools each paying out 1% of the entire company's monthly volume. There are no other structural qualification requirements for distributors to advance in the Xyngular™ marketing program - other than the combined team volume and the straight line sales volume. This is extremely unique in the Direct sales, network marketing and MLM industries. Like most other network marketing companies, Xyngular™ distributors have a number of ways to profit from marketing the company's products including:
1. Retail Profits
2. Four Levels of Xyngular™ Rapid Rewards on Initial Case
3. Eight Levels of Xyngular™ Residual Income plus Dynamic Compression
4. 12% of Xyngular™ Monthly Sales Volume to Xyngular™ Leadership Profit Pools
5. Xyngular™ Quick Start Bonuses
Distributors from companies such as Monavie™ ,Xango™, Vemma™, Xowii™, Mandura™, NuSkin™ and many more are all joining Xyngular™ to position themselves at the very top of the company's explosive compensation plan. Now is the time to take ACTION and START your Xyngular™ business with a BANG!
To get started with Xyngular™ today, Click here!
For more information contact:
Bystrik Kacer
Xyngular Europe
skype: nukegod
phone: +1-815-981-4575
drakeman (at) gmail (dot) com
# # #