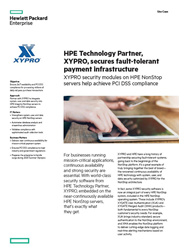 "Our partnership with HPE gives our customers around the world the confidence to handle their high volume payment processing, utilizing world-class security software, and making the work seamless while mitigating risks."
LOS ANGELES (PRWEB) October 31, 2018
XYPRO Technology highlighted in a Hewlett Packard Enterprise Technology (HPE) case study for securing process of millions of payment transactions.
XYPRO, an enterprise cybersecurity provider, ensures the capability of 24/7 availability. The software protects customer data while also facilitating and monitoring compliance under Payment Card Industry Data Security Standards (PCI DSS) regulations.
The security offered by XYPRO expects volume and surges, such as the upcoming 2020 Olympics in Tokyo. XYPRO Technology and HPE Technology deliver assurances for businesses implementing mission-critical applications with strong security.
Fault tolerance plays a crucial role in a disaster recovery stage assuring backup components can restore mission-control systems quickly. With XYPRO Technology security systems, customers are able to reassurances that their systems will perform flawlessly.
XYPRO Technology President, Lisa Partridge said, "We are proud to offer high-quality security modules in which our customers have confidence. Our partnership with HPE gives our customers around the world the confidence to handle their high volume payment processing, utilizing world-class security software, and making the work seamless while mitigating risks."
To read the whitepaper and learn more, please visit https://www.xypro.com/whitepapers/hpe-technology-partner-xypro-secures-fault-tolerant-payment-infrastructure/.
About XYPRO Technology
XYPRO offers 35 years of expertise, experience and success in providing Mission Critical HPE NonStop information systems security, compliance and database solutions. Mission Critical computing allows XYPRO to securely shop, bank, manage our finances and stock portfolios, wire money and transact with credit cards, mobile phones and all types of newer tech innovations. At the heart of these activities is the digital core where data resides - moving, talking, transacting, doing what data does. XYPRO believes that no data is more important than our customers' data and we protect their data like it's their own.