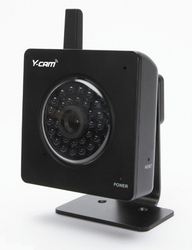 we have responded to the growing demand for simple, affordable IP monitoring solutions by launching the wireless Y-cam. We have invested heavily in the technology as we strongly believe it will be the future of all video monitoring
London, UK (PRWEB) October 31, 2007
Y-cam Solutions Ltd is a UK based manufacturer and has just introduced two models from its growing Internet video camera range: Y-cam White and Y-cam Black.
The camera makes it easy for anyone wanting to keep an eye on their homes, businesses or anything else important to them while they are away. It can send emails of images captured when motion is detected to any 3 email addresses or to data storage units anywhere on the web. You can even record video in complete darkness and listen in to what's going on through the camera's in-built microphone. With only an Internet connection, a web browser and a Y-cam, you can now view live video form anywhere, at anytime
Imagine the usages; the Y-cam is best suited to the small to medium enterprise and the home-user market. Some people use the Y-cam in their homes to monitor their children and pets while they are working, while others are using it to record and monitor their shops, offices and Holiday premises. Most, however, use it simply to make sure everything is OK.
Mr. Devin Chawda, Managing Director of Y-cam said "we have responded to the growing demand for simple, affordable IP monitoring solutions by launching the wireless Y-cam. We have invested heavily in the technology as we strongly believe it will be the future of all video monitoring"
True remote video management is possible with the Y-cam. With the Multi-Live software, the user can monitor up to 16 cameras from one screen in London and have cameras in Liverpool, Scotland, US, Europe, India, or anywhere else in the world.
The story of Y-cam started in 2004, when one of the founders was abroad on holiday with his family and his house alarm had been set off. He was notified immediately, however he had to wait until the Police arrived on the scene to check the premises. Being so far away and having to wait so long was unbearable, and not something he wanted to experience again. Eventually a Police officer checked the premises only to inform him that that it was a false alarm.
If only he could see what was happening...
That was the beginning of Y-cam. The company's core aim is to provide affordable, innovative and user-friendly solutions, so now everyone can enjoy the possibility to view they world anywhere anytime......
To find out more about the Y-cam and see how it works, view the Y-cam website or take a look at the Product Video
Y-cam Solutions LTD
3 Dee Road, Richmond, Surrey | TW9 2JN | United Kingdom
Tel: 44(0)845 5000 247 | Fax: 44(0)845 5000 365
Y-cam website
###