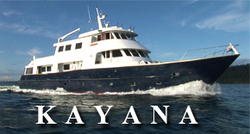 We are very excited about this special option and hope that it helps to draw guests into this area. The overwhelming interest and response in the San Juan Islands and the nearby
Bothell, WA (Vocus) May 6, 2010
In order to bring guests to the beautiful Pacific Northwest to see the natural wonder of this area, Seattle-based CEO Expeditions, is providing a special "Twilight Tour" as an optional add on to their popular San Juan Island charters this summer. The Twilight movies have helped draw attention to the beautiful Puget Sound and the Olympic Peninsula, specifically in Forks, home of the Cullens, and La Push, home of the Quileute tribe profiled in the movies.
CEO Expeditions is currently offering high end charters through the San Juan Islands, which are at the end of the Strait of Juan De Fuca, the same waters the tribe fished. As a special limited offer, a "Twilight Tour" has been created, beginning in nearby Port Angeles and shuttling guests to the sites of the Twilight series, namely Forks and La Push. Land tours would be available, with a fishing option in nearby Neah Bay or the Hoh River. The only rain forest in the continental U.S., Forks is home to primeval old growth forests and rough windswept raw ocean beaches.
Gina Stanhope, company President, stated, "We are very excited about this special option and hope that it helps to draw guests into this area. The overwhelming interest and response in the San Juan Islands and the nearby "Twilight" destinations have been extraordinary. Our past guests have had such a wonderful time, many of them are booking return visits with us. Because we have extended our offer to waive the usual $50-80K charter fees to introduce luxury Mega Yachting in the San Juan Islands and charge expenses only, we have opened up this opportunity to a broader market of people looking for a truly extraordinary experience. It is a trip of a lifetime!
For more information or to reserve a week, e-mail or call Gina Stanhope today at info(at)ceoexpeditions(dot)com, 425-460-4100.
About CEO Expeditions:
Seattle, Washington based CEO Expeditions operated their first private yacht charter in 2000 after their inception in 1999. Their mega yachts, the 100' Katania (Burger) and 123' Kayana (Vosper-Thornycroft) cruise Pacific Northwest and Mexico. For more information, visit http://www.ceoexpeditions.com.
Contact:
Gina Stanhope
info(at)ceoexpeditions(dot)com
425-460-4100
# # #