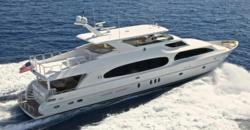 Customized yachts that cost over $100 million are become more common in the industry
Miami, Florida (PRWEB) April 04, 2013
With boating at an all-time high in popularity, there is certainly no shortage of yacht builders to feed the demand; but knowing who to turn to when buying a yacht is no easy task. The team at http://StylishYachts.com has made shopping a lot easier with their resources for all things yachting: sales, charters, clubs and even staffing for superyachts.
With the rise of the super-wealthy, more and more mega-yacht sales are commonplace. According to Forbes, there are more than 1,200 billionaires in the world, and it would seem that the uber-wealthy are competing to outdo each other when it comes to custom yacht building – seeing purchases of 100-million-dollar yachts are becoming a regularity amongst top-tier yacht brokers.
Ever since Forbes reported the purchase of billionaire Andrey Melnichenko's 394-foot mega yacht for a whopping 300-million dollars in 2010, it's been a race among the super-rich to buy the world's biggest yachts – with the virtual prerequisite on the yacht-building contract to break the record for the world's biggest yacht. With purchases like Melnichenko's superyacht, Steven Spielberg's 200-million-dollar mega yacht looks like a minnow in comparison (although it's been reported that Spielberg rents his yacht for a whale of a price: about 1-million-dollars per week).
Custom yacht amenities these days are endless. Seeing options like helicopter landing pads, hot tubs for 20, and even space for other smaller speed boats in the hull are the norm. Many business moguls customize their yachts to fit their professions, so the Wall Street hedge fund managers trick-out their yachts to make them mobile stock markets. And of course the leaders of the motion picture industry get the best "floating" home theaters that money can buy.
Since the world yacht industry is in the multi-billions, yacht staffing has become a cottage industry in its own right – and many of today's boats must come equipped with a captain, engineer, wait staff and of course a personal assistant to cater to your every whim.
Whether boat enthusiasts want to buy a used yacht or build a custom yacht, the team at StylishYachts.com will help buyers with resources for all worldwide markets including but not limited to the United States (Southern California, Greater Miami, New England); Europe (England, Spain, Italy, Greece); and the Middle East (Istanbul, Alexandria, United Arab Emirates).