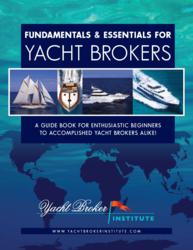 "everything someone needs to know to enter the field of international yacht brokerage".
Fort Lauderdale, Florida, USA (PRWEB) February 29, 2012
Yacht Broker Institute LLC, (YBI - http://www.yachtbrokerinstitute.com) a Florida-based training and job referral company, announces the launch of "Fundamentals and Essentials for Yacht Brokers," a comprehensive online training course for people wishing to become a yacht broker - the brokering of new and used boats and yachts around the world.
From professionals in search of a career change, sales people looking for a more flexible and potentially lucrative sales position, college graduates just entering the work world or Captains and crew looking to "come ashore." The Online Course is a comprehensive body of knowledge covering all aspects of yacht brokerage and the boat sales transaction. The course covers everything from fiduciary responsibility, people involved in yacht sales transactions, the boat listing and selling process, writing and understanding boat purchase agreements, surveys and sea trials, the closing process and paperwork to technical overviews of construction and systems typically found on boats.
The company, founded by industry veterans Rae Whitt, former 14 year, Executive Director of the Florida Yacht Brokers Association (FYBA) and Kevin Ralph, the author and 25 year yacht brokerage veteran, President of Skywater Yachts LLC, allows entree into the potentially lucrative world of international yacht sales.
"While at the FYBA, I would get calls all the time from people who wanted to become yacht brokers," Whitt states. "But until now there was no formal yacht sales training program available, effectively blocking entry for interested candidates."
The 450 page "manual" includes over 150 samples of Charts, Illustrations, Forms and Checklists plus an extensive Dictionary and list of Acronyms. The online course, utilizes an E-Learning Management System, used by Colleges and Universities, for an interactive learning process.
"Not only is there a need for training for people looking to enter the industry," says Ralph. "But there is currently a huge demand by companies looking to hire salespeople who are knowledgeable about yacht brokerage transactions and methodology. In this day and age, this online boat sales training course is truly a "win-win" scenario!"
The company states they already have several multi-location yacht brokerage companies that have agreed to hire graduates of the program through YBI's referral program.
For more information on this exciting opportunity go to: http://www.yachtbrokerinstitute.com
# # #