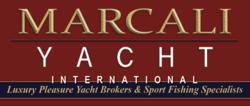 Ultimately, we are building our team to help water enthusiasts of every level discover the spirit and excitement of boating everywhere.
Fort Myers, FL (PRWEB) October 01, 2012
Marcali Yacht Brokerage & Consulting, headquarted in Fort Myers, Florida has announced the further growth of its USA market and welcomes Stephen Fields to its growing sales team. Stephen, a native of South Carolina and resident of Charleston will be serving the Carolina's and Florida territory. Steven graduated from Lander Univeristy in Greenwood, SC with his B.S. in Political Science. He also attended the University of Florida and received additional certification in Environmental Studies. "We are thrilled to have Stephen a part of TeamMarcali," stated Marc Harris, CEO of Marcali Yacht Brokerage. "His knowledge of the Atlantic waters, boating, fishing and the all-round boating lifestyle experience makes him a strong addition to our growing presence." Stephen is a dedicated professional in the recreational boating industry. "All of my life has been centered around the water and boats," said Stephen. "I am delighted to be a part of the Marcali Yacht family."
Marcali Yacht Brokerage is excited to be able to expand our brokerage services into North and South Carolina, Georgia and the surrounding Southeastern Seaboard.
For more information on Marcali Yacht Brokerage, visit our website at http://www.marcaliyacht.com for a comprehensive menu of our yacht brokerage services.
About Marcali Yacht Brokerage & Consulting:
Marcali Yacht Brokerage is a recreational and commercial yacht brokerage firm with yacht management and boat consulting divisions. With a unified vision and expanded services beyond traditional yacht brokerage companies, Marcali provides the highest degree of professional expertise, personal attention to every detail, and a commitment based philosophy that has become the trademark of its business. The brokerage firm, under the guidance of Marc Harris works in close partnership with every client and member to deliver expertise, insights and knowledge to every facet of the boating industry. Marcali stays connected with you. For more information visit http://www.MarcaliYacht.com.
Photography Available upon request
###