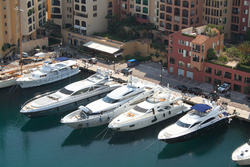 London, UK (PRWEB) September 22, 2009
The new SuperYachts Directory is being officially launched to coincide with the 2009 Monaco Yacht Show - a highpoint of the international yachting calendar. The new directory clearly and confidently promotes the finest products and services that will enhance the lifestyle of anyone who owns or uses super yachts. After more than a year's development, the launch is accompanied by ever-increasing interest from leading companies in the luxury yacht world, and fast-growing prominence in global search engine results.
Only the best super yachts products and services:
The SuperYachts Directory is designed to provide fast, reliable service for time-pressured owners and operators of super yachts and mega yachts who need to source the best products and services quickly. Strict vetting, by a team with considerable experience of the superyacht world, ensures the quality of entries. Because of this, directory users can be sure that all the products and super yacht services are consistent with super yachts requirements - and reflect their good taste.

Protecting their investment
Removing uncertainty about quickly finding quality products
Saving time
Ensuring best value
Helping owners get the most out of their super yacht lifestyle
A timesaving, reassuring resource:
From the needs of superyacht crew and operators of luxury yacht charters, to purchasers of luxury motor yachts and superyacht management teams, the new directory is already proving to be a timesaving, reassuring resource.
The SuperYachts Directory is unique due to its focus on the luxury yacht fraternity, its owner's experience in the world of luxury yachts, and the strict criteria for inclusion of businesses. Whether directory visitors are from the European yachting community or further afield, the new directory will quickly connect owners and operators of super yachts with essential services in categories as diverse as the following:
Yacht Management:
Without the expert support of a yacht management company, yachts management can easily undermine enjoyment of the yachting lifestyle. The directory's yacht management companies have been carefully selected to provide the ocean yacht management and superyacht management services that help owners get the most from their asset and lifestyle. From Total Yacht Management to technical support, this directory section is the key to global super yacht management services.
Yacht Interiors:
Whether owners are specifying the luxury yacht interior on a new build or updating a vessel, correct yacht interior design decisions make or break projects. This directory section simplifies finding the perfect yacht interior design partner. As well as yacht interiors, the directory includes products (from linens to lighting) that put the final touch to a luxury yacht interior and complement the work of the yacht interior designer.
Crew Medical Insurance:
From 'cross-channel' to 'around-the-world', medical healthcare insurance matters.
First, there's crew well-being; then the disruption caused by sickness or injury. Without proper yacht crew insurance, medical problems can easily spoil onboard life. Having the right yacht crew insurance complements owners' main yacht insurance, boosts morale and provides for crew if the worst happens.
In the SuperYachts Directory's crew medical insurance section, users quickly find reputable suppliers of medical healthcare insurance products such as overseas health insurance, expatriate medical insurance and international travel health insurance.
Yacht Medical Equipment/Emergency Assistance:
Having good medical emergency kit and yachting safety devices complements good insurance. That's why the directory features a section on all aspects of yacht safety, ranging from yacht safety equipment to super yacht medical assistance. With a few clicks, directory visitors can reach carefully selected suppliers of these products and services - another key to peace of mind at sea.
In the SuperYachts Directory, super yachts users enjoy benefits including:

The finest super yachts products;
Standards of taste/professionalism appropriate to superyachts;
Strict inclusion criteria for superyachts services.
Discover the luxurious Super Yachts Directory now. For more information or to advertise with us, call Amanda Jenkins Marketing on 44-(0)1451-830399 or visit our website.
###