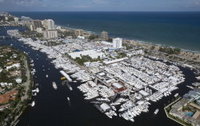 London, UK (PRWEB) October 30, 2009
Just in time for the Fort Lauderdale International Boat Show that's celebrating its fiftieth anniversary, we are celebrating the recent relaunch of the re-styled SuperYachts Directory, which has firmly established itself as a 'must not miss' destination for owners of super yachts - and elite business advertisers keen to reach them.
As a prominent online buying guide for superyacht owners, the directory is a convenient and reliable source of exclusive products and services to complement the superyacht lifestyle. Just as the Fort Lauderdale International Boat Show show is such an important showcase for the best in luxury motor yachts, super yachts and mega yachts, so the SuperYachts Directory has claimed its place as a leading showcase for businesses such as Altor-Secure, Callender Howarth, Burger Davis Sotheby's and The Marine Travel Company that want to reach this privileged fraternity.
The guide to products and services for super yachts
The directory, now nearly two years old and enjoying excellent web traffic from owners and operators of luxury yachts, celebrates a restyled easy to follow interface. It also offers more information throughout to become an easily navigable guide to the best products and services for the world's owners of super yachts. For suppliers fortunate enough to pass the directory's strict vetting, their presence is a prized opportunity to promote themselves to a select audience with massive spending power.

Detailed company profiles.
A stylish, easy to navigate site.
Excellent search engine performance.
A wide range of opportunities to join.
A vital resource for businesses targeting owners of superyachts
Targeting European yachting and international yachting alike, the directory's advertisers cover all aspects of the super yacht lifestyle: from bespoke interior design and luxury yacht charters to maritime security service providers, superyacht crew travel specialists, luxury villa rental businesses and yacht crew cookery schools. Quite simply. if a product or service plays a part in the luxury yacht lifestyle, or superyacht management, there's no excuse for it not being present.
Bespoke yacht interiors services
Take yacht interior design and equipment for example. The directory features suppliers of the best products for yacht interior design and yacht interiors. These range from luxury bed linen and bespoke monogramming of crew uniforms to solid silver cutlery and tableware design, hi-tech lighting, or the services of a specialist yacht interior designer. Undoubtedly, the directory is a perfect showcase for ambitious yacht interior designers seeking lucrative yacht interior contracts.
Yacht security and yacht security systems matters
Then there's yacht security, the maritime security consultants and yacht security systems that keep vessels and those onboard safe. From a one-off maritime security risk assessment to close protection for high-profile owners, the directory contains carefully vetted providers of maritime security, crew security training and other bespoke security services for owners and their families. From VIP close protection to anti-piracy measures, the directory has it all.
Find a crew travel agency or marine travel agent
Superyacht crew members often have to move around the world. Whether they're returning to the UK from Nice on leave, or flying out to Antigua to join a boat, professional yacht crew management regularly involves the services of a specialist crew travel agency or specialist marine travel agents. Any marine travel agent that is involved with luxury yachting should definitely ensure they're in the directory.
Superyacht owners are also in the market for luxury villa rentals
Luxury yacht owners and their guests are a prime target market for villa sales, rental and villa management services. Any business specialising in villa rentals in Europe (including villa rental on the Côte d'Azur or villa rental in Monaco), or around the world, should consider the directory. It's arguable that there isn't a better resource for yacht owners looking for dream villa rentals.
Perfect for chef training courses and chef training schools
No yachting directory would be complete without covering yacht cookery and cooking schools for this market. From centres offering chef training courses, to businesses offering the services of a chef on a yacht, the directory has catering covered. For an experienced yacht chef or a rising star fresh out of chef training school, the directory could be where your business offers its services to yacht owners.
The SuperYachts Directory is now established in the super yachts world. For businesses committed to reaching the super yachts market, not being in the SuperYachts directory just isn't an option. For more information or to advertise with us, call Amanda Jenkins Marketing on 44-(0)1451-830399 or visit our website.
###