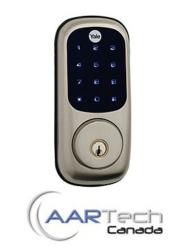 Homeowners can enhance security and convenience through smart home automation
Oshawa, Ontario (PRWEB) February 15, 2012
The emergence of Smart Home Automation technology is driving a new revolution in convenience and safety. Smart Homes are becoming increasingly connected with lights, appliances, heating, security systems and locks that communicate through a home control network. Yale Real Living keyless locks are now part of this ecosystem. These devices can be controlled not only from within the home but also remotely by way of Internet enabled smart phones and web browsers. Smart home systems provide the home owner with enhanced security, convenience and energy management tools to take control of their environment and save on energy costs.
With Yale Real Living™ locks, users can easily add or remove access codes for use by family, friends, tradespeople or babysitters rather than having to worry about losing keys or controlling duplicates. As part of a home control network, deadbolts can be locked and unlocked and user codes can be managed from anywhere in the world by way of an Internet connection. With an integrated system, the home's doors can automatically lock when the alarm system is armed, the homeowner can receive email or text messages when their children arrive home safely and unlock the door, and lights can turn on automatically when the door is unlocked so no-one has to enter a dark house again.
Yale Real Living™ deadbolts are available in pushbutton and touchscreen styles with either ZWave® or Zigbee® configuration options.
About Aartech Canada Inc.
Aartech Canada Inc. is a rapidly growing, fully Canadian owned and operated distributor of home automation and security products based on Oshawa, Ontario. Aartech Canada's business continues to be built on a strong commitment to customer service and a desire to offer unique, high quality and exciting products to Canadian customers with local Canadian support.
About Yale
Part of the Assa Abloy group, Yale is available in over 125 countries. As one of the oldest international brands, Yale is among the best-known and most respected names in the lock industry, with millions of Yale locks in use worldwide.
For more information please contact:
Aartech Canada Inc.
Robert Mowles
1-877-760-3105
http://www.aartech.ca
# # #