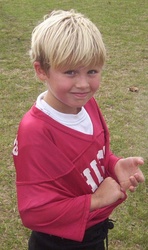 The complaint charges that the Yamaha Rhino ATV is prone to roll over during turns even at low speeds because of inherent flaws in its design
WINNSBORO, Texas (PRWEB) September 5, 2007
On June 22, 2007, J.T. Crow was an innocent, belted passenger on a Yamaha Rhino ATV when the vehicle rolled over at a slow speed. The Yamaha Rhino's lack of doors resulted in his ejection despite being belted. Crow was pinned underneath the Rhino and suffered substantial injuries. Emergency personnel rushed J.T. Crow to the emergency room of Jasper Memorial Hospital in Jasper, Texas, where he was pronounced dead.
"Because of this tragedy so many persons have been deeply affected for the remainder of their lives. J.T. was a very smart and beautiful boy. He excelled at academics and sports, but most special was his compassion for others and gift for making people feel important," stated Heidi Crow. "It is written, 'He who saves one life, saves the entire world.' That is why our family has filed suit against Yamaha. The Rhino vehicle is unsafe and poses a grave hazard to its riders."
"The complaint charges that the Yamaha Rhino ATV is prone to roll over during turns even at low speeds because of inherent flaws in its design," stated Fabrice N. Vincent of Lieff Cabraser Heimann & Bernstein, LLP, which is representing the Crows. "Yamaha has been aware for years of serious injuries and deaths of drivers and passengers in rollover accidents, yet has not modified the Rhino's design to correct for its stability problems."
In August 2007, Yamaha announced that in response to the risk of injury during side rollover accidents, it is offering to install doors and passenger handholds for the Rhino ATV. The doors are meant to prevent riders from sticking out arms or legs during rollover accidents. Yamaha is offering to install these new safety features free of charge to all 2004-2007 Rhino owners, regardless of whether the vehicle was purchased new or used. Owners are instructed to visit Yamaha dealerships for details.
"I am gratified to see that Yamaha is beginning to recognize that the Rhino is prone to rollover even on flat surfaces during turns," stated Heidi Crow. "Yamaha should widely publicize its offer of safety upgrades for Rhino. Doors and passenger handholds, however, do not prevent rollovers. If safety is its highest goal, Yamaha must modify the design of the Rhino itself to eliminate its instability."
"No more children should die in Yamaha Rhino accidents," stated plaintiffs' counsel Glenn M. Douglas of Crowley Douglas & Norman LLP. "Yamaha must acknowledge its legal responsibility to families of loved ones killed in rollover accidents as it works to make the Rhino a safe vehicle."
Plaintiffs' attorney Enrique Serna of Serna & Associates PLLC, observed, "Sadly, Yamaha's retrofit is too late to bring life and health back to those killed and maimed by the dangerously unstable Yamaha Rhino."
Representing plaintiffs are Fabrice N. Vincent of the national plaintiffs' law firm Lieff Cabraser Heimann & Bernstein, LLP, Glenn M. Douglas of the Houston, Texas law firm of Crowley Douglas & Norman LLP, and Enrique G. Serna of Serna & Associates PLLC from San Antonio, Texas.
Persons injured in Rhino ATV accidents should visit http://www.vehicle-injuries.com/yamaha-rhino-accident.htm, a website operated by Lieff Cabraser, to learn more about the dangers posed by the Yamaha Rhino and their legal rights. Please complete the contact form for a free, no obligation review of your case by Lieff Cabraser injury attorneys.
Reporters wishing to obtain a copy of the complaint should contact Brandan De Coteau at bdecoteau@lchb.com.
About Plaintiffs' Counsel
Lieff Cabraser Heimann & Bernstein, LLP
Described by The American Lawyer as "one of the nation's premier plaintiffs firms," Lieff Cabraser Heimann & Bernstein, LLP, enjoys a national reputation for professional integrity and the efficient and responsible prosecution of our clients' claims. Lieff Cabraser represents plaintiffs in class and group actions and in individual lawsuits in cases of serious personal injury or death. Learn more at http://www.lieffcabraser.com.
Crowley Douglas & Norman LLP
With solid experience in class actions, personal injury and wrongful death cases, Crowley Douglas & Norman LLP has never lost sight of the fact that a law firm is judged not only by its results but by the satisfaction of its clients and the respect of its colleagues and opponents. Learn more at http://www.cdnlawfirm.com.
Serna & Associates PLLC
For over 15 years the injury attorneys at Serna & Associates PLLC have represented injured persons and the families of loved ones who died due to the negligence and wrongful conduct of others. Learn more at http://www.serna-associates.com.