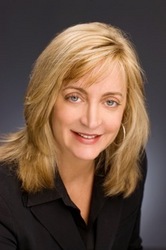 In her new role, Ms. Barrett will be strengthening Yamaha's relationships with classical performing artists, presenters, and the classical music community at large.
New York, NY (Vocus) November 10, 2010
Yamaha Corporation of America has appointed Bonnie Barrett Director of Yamaha Artist Services, Inc. Ms. Barrett will be located at the company's Piano Salon, a 7,700-square-foot, state-of-the-art facility on the third floor of 689 Fifth Avenue, New York, New York, at 54th Street and Fifth Avenue, in the center of Midtown Manhattan.
Ms. Barrett will be representing the Yamaha family of acoustic pianos, including the hand-built Yamaha CFX concert grand piano, launched earlier in 2010—the result of nearly 20 years of product development with input directly from many distinguished pianists from around the globe. Since its introduction this year, the Yamaha CFX has already been celebrated for being the piano of choice by the winners of the 2009 Hamamatsu International Piano Competition, the 8th National Chopin Piano Competition in Miami, and most recently, at the 16th International Chopin Competition in Warsaw this past October. Ms. Barrett will also be involved with the venerable 182-year-old Viennese piano maker Bösendorfer, the piano of choice of legendary pianists and composers.
In her new role, Ms. Barrett will be strengthening Yamaha's relationships with classical performing artists, presenters, and the classical music community at large, as part of Yamaha's unwavering commitment to providing the best possible musical instruments and concert service to concert pianists wherever they are performing.
Prior to her appointment at Yamaha Artist Services, Ms. Barrett was Vice President of Barrett Vantage Artists, where she oversaw artist management and concert booking for a roster of highly acclaimed artists spanning the genres of classical, opera, cabaret and jazz. Prior to Barrett Vantage, she served as Director, Concert and Artist Activities for the Americas, for Steinway & Sons in New York. She has also held executive positions in marketing and public relations with several international classical recording companies, including Sony Classical, EMI and BMG Classics. She began her career at Columbia Artists Management.
"Yamaha is deeply committed to its classical artist relations program. We are extremely pleased to offer pianists an incredible choice of outstanding instruments, specifically the Yamaha CFX concert grand piano, and the Bösendorfer piano, together with a dedicated state-of-the-art facility devoted exclusively to servicing the needs of artists: for rehearsals, recitals, master classes, receptions, recordings and institutional selections, in the heart of Midtown. Having Bonnie on our team, together with our extraordinary handcrafted pianos and an acoustically-adaptable space devoted exclusively to artists, underscores Yamaha's unparalleled commitment to offering the best possible concert services to the classical music community," says Paul Calvin, Vice President and General Manager of Yamaha's Keyboard Division.
Ms. Barrett replaces James Steeber, who has left the company to pursue other interests.
About Yamaha
Yamaha Corporation of America is the largest subsidiary of Yamaha Corporation, Japan and offers a full line of musical instruments and sound reinforcement products to the U.S. market. Products include: acoustic and digital pianos, portable keyboards, guitars, acoustic and electronic drums, band and orchestral instruments, marching percussion products, synthesizers, professional digital and analog audio products, and innovative technology products targeted to the hobbyist, education, worship, professional music, and installation markets.
###