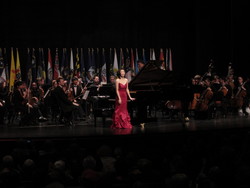 It's tremendously gratifying to have the CFX play such a prominent role in its very first opportunity in competition,
Miami, FL (Vocus) March 10, 2010
The jury of the Eighth National Chopin Piano Competition has awarded first prize to 19-year-old Yamaha Artist Claire Huangci. Huangci, a native of Lansdale, Pennsylvania, is a graduate of the Curtis Institute of Music and a student at the Hannover Hochschule Für Musik in Germany. The prize includes a $20,000 cash award, an international concert tour and automatic admission to the highly prestigious International Fryderyk Chopin Competition in Warsaw in October.
Huangci was chosen over five other finalists who performed the Chopin concerto of their choice on February 27-28 at Miami-Dade County Auditorium with the Frost Symphony Orchestra – the University of Miami's student orchestra. The award announcement coincided roughly with the 200th anniversary of the composer's birth on March 1.
According to Agustin Anievas, a New York concert pianist who served as chair of the competition jury, Huangci "had tremendous rounds through the whole competition. Everything she did was so polished, so beautifully done. It was a unanimous decision." Continued Anievas, "she had enormous technique, yet she kept it in reserve and put it to the service of the music."
Huangci's triumphant outing marked the auspicious first competition appearance of the newly launched Yamaha CFX handcrafted concert grand piano. "It's tremendously gratifying to have the CFX play such a prominent role in its very first opportunity in competition," said Paul Calvin, Vice President and General Manager of Yamaha's Keyboard Division. The 19 initial contestants were given the opportunity to select either a Yamaha CFX or a Hamburg Steinway.
The 9' CFX full concert grand, which replaces Yamaha's acclaimed CFIIIS concert grand piano, was launched in January 2010. In addition to drawing on its 108-year heritage of manufacturing the world's finest pianos, the instrument represents 19 years of research and development conducted by Yamaha craftsmen, designers and engineers to create this extraordinary handcrafted piano. The process culminated with a series of top-secret, in-depth evaluation sessions conducted in New York, Paris and Tokyo with top artists and Yamaha artist services over the last few years.
Continued Calvin, "The CFX was engineered to offer world-class pianists outstanding expressiveness and singing legato tone, combined with unprecedented power and tonal projection. Claire's exciting win is clear evidence of that. We congratulate Claire on this wonderful achievement and wish her well in Warsaw."
"This piano has become a titan of the stage upon its first use," noted James Steeber, Director of Yamaha Artist Services, Inc. "What is so wonderful is how it serves the needs of performing artists and gives them the arsenal of sound, power, and touch they crave."
According to David Fleshler of the Miami Herald, Huangci's performance stood out on all counts. "She brought a special gift for Chopin's long romantic lines of melody, particularly in the first movement, with a natural rubato that added a vocal element to the music without allowing it to lose shape," wrote Fleshler. "Overall, her technique was fluent and easy; she never gave the impression that the concerto caused her much difficulty and never used technical fireworks as a focus of the drama."
Other top competition finalists included Second Prize winner Naomi Kudo, 22, of Northbrook, IL. Esther Park, 25, of Little Ferry, NJ and Eric Zuber, 24, of Baltimore, MD, tied for Third Prize and also played the CFX grand.
Huangci began her piano studies at the age of seven when she was enrolled into the Settlement Music School of Philadelphia. Within her first year of school she was featured on Fox News as a child prodigy with "the skills of a professional pianist." In 2003 she was admitted into the Curtis Institute of Music, where she studied under Eleanor Sokoloff and Gary Graffman.
During her schooling, Huangci was awarded a number of scholarships and won many competitions, including the Grand Prize at the 1999 World Piano Competition in the young artist division, the Philadelphia Orchestra Competition and the 57th Kosciuszko Chopin National Piano Competition.
Her performances have been featured on many music radio stations, including a performance of Chopin's Piano Concerto No. 1 on New York's WQXR. In 2006, she became Yamaha's Youngest Artist endorsee. In 2007 Huangci made her first appearances in Europe with solo performances in Munich, Frankfurt, Zurich and Paris. She also performed with National du Maroc Philharmonic at the Morocco Festival and debuted with the China Philharmonic in Beijing.
About Yamaha
Yamaha Corporation of America is the largest subsidiary of Yamaha Corporation, Japan and offers a full line of musical instruments and audio/visual products to the U.S. market. Products include: acoustic and digital pianos, portable keyboards, guitars, acoustic and electronic drums, band and orchestral instruments, marching percussion products, synthesizers, professional digital and analog audio products, and innovative technology products targeted to the hobbyist, education, worship, professional music, and installation markets.
# # #