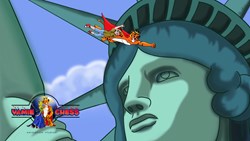 Las Vegas, Nevada (PRWEB) June 12, 2013
Yamie Chess Ltd, the K-8 math learning company that won the Canada International Film Festival's Royal Reel Award in Animation, and that was awarded official selection to Johns Hopkins University, one of America's top universities, has been awarded a major official selection to The San Francisco Frozen Film Festival, an independent film festival in the Bay Area that was named as MovieMaker Magazine's Top 25 festivals "worth the fee" in 2008 and Top 25 "coolest film festivals in the world" in 2009. The win comes less than two months after Yamie Chess Ltd won selection to Coca Cola's Beverly Hills Film Festival and took the Aloha Accolade in Animation at the Honolulu Film Awards in Hawaii.
Made-In-America, Yamie Chess: The Adventures of Tigermore and the Mind Angels, uses classic chess woven through a cartoon story, where all the characters represent the chess pieces, to build children's intellectual potential for STEM learning, enabling children to connect the math ideas underpinning classic chess with useful algebra and geometry learning for school, supporting K-8 school children's growing self esteem and engineering a scientific thinking skillset to approach math learning in the classroom.
Yamie Chess's award-winning debut animation, King Tigermore In Strawberry Fields, which is synchronized to Mozart's Symphony No.25 in G Minor, and is the forerunner to the math comic in the learning aid launching at next year's American International Toy Fair in New York, extends the Yamie Chess math comic's narrative about an eight-year-old American boy genius, Kimi, who travels to the Mind Kingdom, a secret galaxy ruled by chess, that can only be reached by going to sleep in a hospital operation, where math learning that supports the National Council of Teachers of Mathematics (NTCM)'s Curriculum Focal Points, is imparted to children through a fantasy chess world.
The math learning aid provides children with cognitive thinking skills, including math problem solving, data analysis, measurement, number and operations, algebra and geometry lessons taught alongside a unique chess integration that includes a coloring book and fun comic interface, so that children as young as five, who have no prior experience with chess, are able to learn basic math principles, with hand-holding instruction and guidance, structured around the classic chess board grid.
About Yamie Chess
Yamie Chess Ltd's K-8 educational math learning series is making its worldwide debut at the American International Toy Fair 2014 in New York on 16th February 2014, and NSSEA Ed Expo 2014 in Dallas, Texas. In 2013, Yamie Chess won official selections to over forty major North American and international film festivals, including the Canada International Film Festival, Utah Arts Festival in Salt Lake City, Merrill Lynch Bank of America's Gasparilla International Film Festival in Tampa, Planet Hollywood's Myrtle Beach International Film Festival in South Carolina, Devon Energy's Oklahoma deadCENTER Film Festival, the 22nd Arizona International Film Festival and New York City's SOHO International Film Festival sponsored by the Mayor of New York.
Yamie Chess Ltd is an accredited member of the Toy Industry Association (TIA), the National School Supply and Equipment Association (NSSEA), the American Specialty Toy Retailing Association (ASTRA) and U.S. manufacturing group, American Made Matters.
Audience Keywords - Math, Chess, Children's Education, Educational Toys, Learning Toys, Made in America, STEM learning.