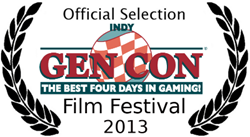 Las Vegas, Nevada (PRWEB) May 27, 2013
Yamie Chess®, the K-8 math learning aid for STEM education that is launching at the American International Toy Fair 2014 in New York City, has been awarded a prestigious official selection to Gen Con, the largest annual gaming convention in North America that was founded in 1968 by Dungeons & Dragons creator, Gary Gygax.
Synchronized using hand-drawn cel animation to Mozart's Symphony No.25 in G Minor, Yamie Chess®'s award-winning animated film, King Tigermore In Strawberry Fields, tells the magical fairytale of an American boy genius who enters a fantasy cartoon chess universe where all the comic characters represent the classic chess pieces on the board.
Made-In-America, the forthcoming Yamie Chess® math education product that will debut at New York Toy Fair in 2014, and that partners with the film, supports the National Council of Teachers of Mathematics Curriculum Focal Points in algebra, geometry, data analysis, measurement and number logic. As a supplemental math learning aid, Yamie Chess® imparts math and science learning for cognitive development and visuo-spatial reasoning, focused on enabling children to explore the mathematical basis of classic chess, a learning system that has been proven by expert U.S. scientific studies to raise math and reading scores in the classroom.
Supportive of children who are under-achieving in math, or math phobic, while still being challenging for the brightest students, the K-8 math learning in Yamie Chess® is woven through an educational cartoon interface, with a specially adapted U.S. tournament-sized classic chess set that has been designed for little hands, and an engaging math comic that children can color and read as they learn and tackle important math concepts for school.
In 2013, Yamie Chess® won the Canada International Film Festival, and was honored with prestigious official selections to Johns Hopkins University, the 22nd Arizona International Film Festival sponsored by the University of Arizona and the Academy of Motion Picture Arts and Sciences (the Oscars), Merrill Lynch Bank of America's Gasparilla International Film Festival in Tampa, Devon Energy Corporation's deadCENTER film festival in Oklahoma City, the Utah Arts Festival in Salt Lake City, Coca-Cola's Beverly Hills Film Festival; and won Best Animation at the Los Angeles Film & Script Festival, and won the Honolulu Film Awards' Aloha Accolade Award in Animation, sponsored by Hawaiian Airlines.
In South Carolina, Yamie Chess® won selection to Planet Hollywood's Myrtle Beach International Film Festival and Yamie Chess® was nationally televised on American Primetime Television as part of New York City's Winter Film Awards which honored Yamie Chess with selection.
Sponsored by Hasbro's Wizards of the Coast, Rio Grande Games and ACD Distribution, Gen Con's award for Yamie Chess® will help the educational math learning aid to reach a forty-thousand strong gaming audience, as the 45-year-old Gen Con annual convention serves as one of the most important events on the American toy and game industry calendar.
###
About Yamie Chess®
Devoted to enabling U.S. K-8 elementary and middle school-age children to reach their full intellectual potential in school, and nurture children's math learning success for STEM education, Yamie Chess® is a member of the Toy Industry Association (TIA), the National School Supply and Equipment Association (NSSEA), the American Specialty Toy Retailing Association (ASTRA), and launches its first educational K-8 math learning aid at the American International Toy Fair 2014 and NSSEA Ed Expo 2014.