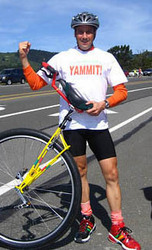 Considering that our team had the 2nd least number of years riding, and one of the older riders, we did great! No one passed me going up a hill; and we had some great road rivalries
San Diego, CA (PRWEB) July 2, 2008
Yams provide power for unusual unicycle team to compete in 5-day, 500+ mile (800 km) "Ride The Lobster" (http://www.ridethelobster.com) unicycle race, across the Canadian province of Nova Scotia. Aptly named, The YamPower! (http://yampower.spincycle.org) team members fueled themselves largely by consuming a diet that consisted of nutritional products made from (what else) yams.
YamPower! team captain, Jim Sowers credits Jay Robb Enterprises (http://www.jayrobb.com/,) a California-based nutrition company, with providing the riders with the nutritional products that helped supply them with the energy they required to endure the grueling 5-day competition. The team ate a diet that consisted largely of Jay Robb YAMMIT! Nuggets and YAMMIT Energy Bars---both made primarily from sweet potatoes (yams).
Why Yams? "Athletes have long favored the power of sweet potatoes (yams) as an ideal carb source for athletic performance and sustained energy. But who wants to carry around a yam or sweet potato to munch on all day? Not many. That is why I developed a way of packaging that natural energy source into convenient YAMMIT products that are easy to use, sweet to the taste, and high in vital nutrients, says clinical nutritionist and creator of the YAMMIT! Energy product line," said Jay Robb. "Due to their high nutritional content, the sweet potato (yam) has also been rated the number one vegetable by the Center for Science in the Public Interest---for its fiber content, complex carbohydrate, protein, Vitamins A and C, iron, and calcium,"
Ride the Lobster Unicycle Race (June 16-20, 2008) was a unique five day relay race consisting of teams of three riders, that each exchanged, while riding on-the-fly. The teams raced through 136 communities while passing through some of the most picturesque countryside and coastal communities in Canada where spectators and school children lined the streets. The YamPower! Team was one of 35 teams from around the world that participated in the race. Elite extreme unicyclists from 17 countries, 17 states and 8 provinces participated. Teams from Germany, New Zealand, and the U.S. (Texas/California) took the top three spots, with only 18 minutes separating the top two over the 5-day event.
Although Team YamPower! did not place with the top winners; the team seemed thrilled with the once in a lifetime experience. "Considering that our team had the 2nd least number of years riding, and one of the older riders, we did great! No one passed me going up a hill; and we had some great road rivalries," said rider Jim Sowers.
"Our yam theme was a sensation -- we were voted the most entertaining team -- and the YAMMIT! products were a real hit with the other riders," stated team member, Rachel Kalmer.
The YamPower! Team (http://www.yampower.spincycle.org) consists of three riders: Jim Sowers a lawyer and DJ based in the San Francisco Bay Area. He enjoys MUni (mountain unicycle) rides, and unicycle basketball. He also teaches and performs with Cuban dance troupes; Rachel Kalmar is working on her PhD in neuroscience at Stanford. When she isn't unicycling, she rides on Heelys (shoes with wheels), motorcycles, and dances Cuban salsa; Ashley Foster is an aerial dancer and costume designer. She has performed across the country and teaches aerial dance in Berkeley and has been featured in the annual Skydancer's Festival: Women Who Fly Through the Air. Heather Noone was the team's support person, an avid unicyclist herself; she is also a therapist specializing in family and child mental health.
Jay Robb Enterprises, creators of YAMMIT! Nuggets and YAMMIT! Energy Bars has been producing high quality natural protein powders, nutrition bars, and health products since 1988. CEO and founder Jay Robb is a clinical nutritionist and author of the bestselling books The FRUIT FLUSH™ - 3-Day Detox, The Fat Burning Diet, and The FRUIT DIET. For more information, visit http://www.jayrobb.com or 1-877-JayRobb.
Media contact: Nancy Ferguson at 760.448.1606 or nancy @ jayrobb.com
###