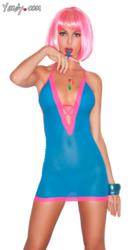 Pulling from popular trends, like bright neon colors, the new Yandy Candy collection is sure to hit sweet tooth or two.
Phoenix, AZ (PRWEB) January 23, 2013
Yandy.com, international online retailer of women's lingerie and apparel, has launched an exclusive new collection aptly named Yandy Candy inspired by trending neon colors and classic candy favorites. The new Yandy Candy line can only be found at Yandy.com and features 12 colorful styles at affordable prices.
Pulling from popular trends, like bright neon colors, the new Yandy Candy collection is sure to hit a sweet tooth or two. The Yandy exclusive collection consists of 12 neon lingerie items and can only be purchased on Yandy.com at http://www.yandy.com/Yandy-Candy.php. With everything from bra and panty sets to camisoles and chemises, the collection is well rounded and is bound to add the perfect burst of color to any woman's lingerie drawer. Stand out pieces include a neon blue mesh chemise with hot pink lace trim, faux lace-up front and halter neck for $8.95 and the purple cheetah print triangle bra top with matching, wrap around booty shorts and gloves for $12.95.
Affordability meets fashion with the new Yandy Candy line as well. With prices starting as low as $6.95 and up to $13.95, shoppers will have plenty left over for adding on unique extras. For example, to complete each look, Yandy has paired all of the items in the Yandy Candy line with neon wigs and candy accessories, all of which are available for purchase on the site.
Not only that, but Yandy has taken the new candy-inspired line one step further adding an extra feature for shoppers. For interested customers, a gift box complete with Yandy tissue paper, ribbon and assorted candy can be added to any Yandy Candy order for $8.95.
In addition to the new Yandy Candy collection, Yandy offers same-day shipping, free flat rate shipping on all orders over $70 and a free panty with every order. The exclusive new Yandy Candy collection from Yandy.com adds just the right amount of wrong to any lingerie collection.
About Yandy.com
E-commerce is on the rise and Yandy.com is one of the largest online retailers of Valentine's day lingerie, sexy Halloween costumes, swimwear and clothing on the web. Founded in 2005, Yandy boasts more than 7,000 products always in stock at affordable prices. Yandy ensures that every costumer will receive a safe, secure and private online shopping experience and is backed by COMODO online security and Google Checkout. Yandy is dedicated to customer service and only sells what is in stock which allows for quick, same day shipping. Offering the highest quality products at the most affordable prices in the market, Yandy has become a leader in ecommerce. Yandy works closely with all of the manufacturers they distribute for and hand select all of the items on the website to ensure customers have the largest and most diverse collection to choose from. In addition, the customer service team at Yandy is unrivaled. With attentive and helpful operators, should a question or problem arise, the customer service team at Yandy is always willing and able to assist. At Yandy, every customer can Be Sexy.
###