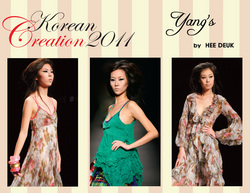 I always respect women who think differently in a Bohemian way, seeking love, new challenges and experiences
New York, NY (Vocus) September 8, 2010
Innovative Korean designer Yang exemplifies the free-spirited, exotic Bohemian style changing the Western women's fashion landscape with his 2010-2011 Yang's collection at New York Couture Fashion Week. Artistic self-expression through Bohemian flare is permeating the fashion scene in collections from Vivienne Westwood and Jason Wu to Mark Jacobs, Hermes, and Diane von Furstenberg. Yang brings a fresh perspective to this funky, feminine trend in his show being held at the legendary Grand Ballroom at the Waldorf Astoria on Saturday, September 11 at 8:00 pm.
Exhibit: Friday, Saturday and Sunday, September 10-12 –from 2-8 pm (John Jacob Astor Salon)
Korean Collective Runway Show: Saturday, September 11 at 8:00 pm (Grand Ballroom)
Location: Waldorf Astoria, 301 Park Avenue (Between 49th/50th Streets), New York City
The Eastern influence of Asian American designers like Yang on today's fashion scene became evident this year when, for the first time ever, all three prizes given at the American fashion awards ceremony in June went to Asian-American designers. According to the NY Times, the number of Asian-American members of the Council of Fashion Designers of America has grown from 10 in 1995 to at least 35 today. Yang epitomizes this fresh trend of influential Asian American designers by invoking artistic self-expression with the right mix of chic bohemian style, luxe fabric and chic ethnicity.
Yang expresses youth and freedom in his 2010-2011 collection, which features Burberry-inspired plaids in flowing skirts and trouser pants topped with sleeveless blouses accented by waterfalls of feminine ruffles. Contrasting the black, red and tan plaids, energetic, vibrant dresses and tops swirl in graphic floral patterns and gorgeous feminine shapes in sheer flowing fabrics. Featherweight styles represent escapism. Fantasy palettes lead to sunshine-filled moods. Yang's designs are like the petals of an exotic flower that cascades to perfection.
"I always respect women who think differently in a Bohemian way, seeking love, new challenges and experiences," says Mr. Yang. "My brand has loyal customers, professional women who enjoy the arts and global travel, and love their life." Yang's new collection speaks to the modern woman seeking fashionable self-expression as a state of mind, not just a fashion trend that will fade with time. Colored patterns and mixed prints infuse oversized shapes with tailored/fitted pieces to keep silhouettes feminine and chic.
"Yang's helps every women to bring her own personality into high-fashion," said Mira Zivkovich, president of New York-based MZI Global fashion consulting firm. "Hee Deuk Yang is an Asian designer who understands how to implement Bohemian style without losing the feminine, chic feel women crave all over the world."Yang launched his career after winning top honors in a Korean design contest in 1990. Prior to Yang's designed multiple fashion lines, which has been featured in Hong Kong, Beijing and Seoul's fashion weeks as well as Italian fashion magazines.
Yang's Collection will be available in the US exclusively at Koreancreation. Wholesalers and distributors please contact Ksenia Denisova at MZI Global Marketing at 212 366 5409
MZI Global Marketing is an award-winning, full-service integrated marketing and advertising firm that creates and executes effective high-tech solutions for their clients across a wide spectrum of industries. Under the leadership of president and CEO Mira Zivkovich, recipient of the 2007 Ellis Island Medal of Honor, MZI Global Marketing puts its international, multicultural marketing expertise, a mastery of interactive marketing strategies, and custom publishing prowess to work for clients that aim to build their businesses on a global scale. MZI Global Marketing is committed to guiding its clients from initial strategy to well executed solutions, helping them surmount any challenge and achieving their every business goal. For more information, please visit http://www.mziglobal.com.
###