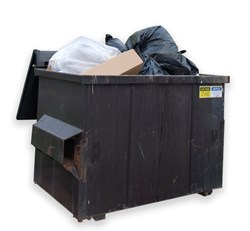 The Dumpster Rental Quotes company now offers various sizes of yard dumpsters for discounted prices.
Provo, Utah (PRWEB) October 15, 2012
Yard dumpster rental is one way that some homeowners are using to cleanup sections of their property. Everything from construction debris, leaves and general trash removal can be eliminated with a yard dumpster. One company is making it less expensive for homeowners to rent these dumpsters online. The Dumpster Rental Quotes company now offers various sizes of yard dumpsters for discounted prices. A database of pricing is cross referenced to ensure that yard dumpster rental prices are the lowest possible for homeowners. More information can be found at http://www.dumpsterrentalquotes.com.
The pricing can often be higher between companies that compete for dumpster rental. There is no current set of pricing numbers that are offered due to the private nature of the trash removal business. A homeowner that searches for roll off dumpsters, yard dumpsters or other trash containers could find it difficult to receive a quote to meet a trash removal deadline.
The Dumpster Rental Quotes website helps to solve this problem by getting the top quotes for homeowners without the legwork required. Homeowners can now use this online resources 365 days a year to get pricing that is not available elsewhere online.
Dumpster sizing can be confusing to anyone that has not rented a trash dumpster in the past. Most size charts are written in cubic yards and those that have no experience with this measurement could be at a disadvantage. The prices that are quoted are usually based on the total number of square yardage requested. A mistake can be made in a homeowner calculation that could raise the cost of a dumpster rental.
The DumpsterRentalQuotes.com website now lists easy to understand dumpster sizing on its homepage. This can help someone to better estimate sizes properly in an effort to get the most accurate rental quotes.
Since most dumpster rental agencies are brokers, the company that provides the rental is not the same as the one that delivers the actual containers. This can sometimes result in a discrepancy in the total price. Third party haulers that drop off or pickup dumpsters could assess different fees for these services.
One way that the Dumpster Rental Quotes company is helping to eliminate this problem is by negotiating in advance with haulers to help get a more accurate price for daily, weekly, bi-weekly or monthly trash dumpster rentals.
About Dumpster Rental Quotes
The Dumpster Rental Quotes company has regional offices around the United States that help to expedite the dumpster rental process for homeowners and business owners. This ground team is able to help generate up-to-date pricing and make it available instantly. This service has helped to eliminate many of the traditional offline costs that were known to raise the cost of dumpster rentals. The Dumpster Rental Quotes company is one of the resources that can be used 365 days year to obtain lower than competitive pricing entirely online.