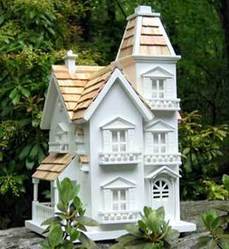 We are excited to be offering these new designs in decorative birdhouses
Alpharetta, GA (PRWEB) March 16, 2011
YardEnvy.com has partnered with Home Bazaar and Heartwood, a Made in USA bird house company, to inventory an increased selection of bird houses that will ensure shoppers have the best selection possible, with a wide variety of styles.
Home Bazaar is a manufacturer of decorative birdhouses designed to resemble architectural landmarks and designs. Featured in magazines including "Garden Decor", "Better Homes and Gardens", and "Romantic Homes", and making appearances in movies like The Stepford Wives, Home Bazaar's stunning bird house designs have earned national praise. Their highly acclaimed historical replicas are mini masterpieces of original designs. Among the most popular historical designs are the Star Barn and The Round Island Lighthouse, each of which uses pebbles, paint colors, window frames, and even an American flag on the lighthouse to ensure no details are overlooked. Among their best selling decorative bird houses include the Victorian Manor, with pine shingle gable roof tops, a fenced in porch, and balcony windows, and the Clubhouse Bird House for Purple Martins, which is styled after the southern plantation style Master's Clubhouse in Augusta, GA.
Based in Mississippi, Heartwood is focused on keeping all of their birdhouses American made and handcrafted. Heartwood bird houses display both rustic elements and whimsical design, offering a nostalgic spirit. Copper top roofs are one of the Heartwood special features, along with solid wood construction. A customer favorite on Yard Envy is the Old World Songbird Suite, showcasing a solid cypress body with copper roof, cast iron finial, and mahogany shutters. Another popular Heartwood design is the Country Wildwood Church, with a copper ridge on the roof and steeple, and classic small church detailing.
Yard Envy chose to partner with both manufacturers due to their quality craftsmanship, longstanding reputations, and continued endeavors to explore additional designs in architecture. Yard Envy will be the exclusive retailer for the new Home Bazaar Swedish Cottage, Boat House and Villa Galina bird houses for Spring 2011. New Heartwood birdhouses for 2011 are also available, with the Rock City and Vintage Shed promising to be top sellers. "We are excited to be offering these new designs in decorative birdhouses," states Jeanette DiCamillo, buyer for YardEnvy.com, adding "It is always fun to see which new bird houses will take off."
YardEnvy requires all available bird houses are safe for use, paints are always non-toxic, and hole openings and interior cavities are the correct shapes and sizes. Committed to keeping birds safe, Yard Envy offers learning resources to equipped new bird landlords with information regarding safety of birds against predators and the elements, proper care and feeding of birds, tips for attracting birds, birdhouse designs and more. Content editor Diana Henderson devotes much of her day to research for YardEnvy, claiming "Decorative birdhouses are as much a responsibility as they are a decoration, and we take that seriously."
###