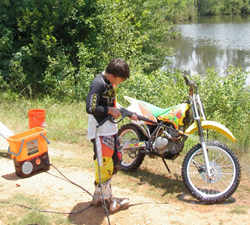 "This is an industry game changer!" ~ John Plocic, VP and General Manager, SUMEC North America
Kennesaw, GA (PRWEB) August 18, 2015
SUMEC North America today introduced the all new YardForce Pressure Washer 4050 40v Cordless Pressure Washer (Model YF4050PB). Powered by a 40v Lithium-ion battery, the YardForce 4050 40v cordless pressure washer is uniquely designed to provide users with optimal portability and functionality for remote applications where garden hoses and electricity may not be easily accessible. The revolutionary pressure washer is unlike anything you have ever seen.
"The YardForce 4050 40v Pressure Washer is an industry game changer. The go-anywhere power of the 40v Lithium-Ion battery along with a removable bucket hopper allows you to fill the bucket from any clean water source including lakes, streams or a faucet. And when you have access to a garden hose you can simply remove the bucket and connect the hose directly to the pump base section. Simply put, it goes where you need it." ~John Plocic,
VP and General Manager, SUMEC North America
The YardForce's pioneering hopper bucket and garden-hose optional feature, industry firsts, allows consumers to scoop water directly out of a river, lake or even a pool. Simply fill the hopper bucket with the closest clean water source (i.e. river, lake, pool water) or with pressure washer friendly detergent or degreaser for portable remote cleaning, or connect a garden-hose to the base unit for extended cleaning. The YardForce 4050 40v is ideal for "on site" pressure washing: from spraying off dirt bikes and mountain bikes, to washing off boats and campers, to grills and garden tools, or cleaning farm and construction equipment.
Pricing & Availability
The YardForce 4050 40v is equipped with a 40v Lithium-Ion Battery at 4.0Ah, 0°, 15° & 40° quick connect nozzles, 1/4" Quick Connect Tip Wand, 19' non-marring hose, a soap bottle and produces 500 PSI/.95GPM along with a 3 Year Warranty and is now available for $229 at: ForcetoolsUSA.com or PowerEquipmentDirect.com.
Learn More About YardForce
To learn more about YardForce 4050 40v Pressure Washer, please visit YardForceUSA.com.
YardForce is the one-brand solution for electric and gas Outdoor Power Equipment.
SUMEC North America is a manufacturer of innovative outdoor power equipment for a broad range of users across the globe. Yard Force brand products can be purchased in national retailers and online throughout the US and Canada.