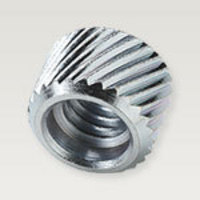 Manufacturers using the discontinued Southco threaded metal inserts are searching for a replacement press-in insert that does not require a change in their manufacturing process
Yardley, PA (PRWEB) June 15, 2009
Yardley Products Corporation a manufacturer of precision engineered threaded metal insert fasteners, today announced the offering of the Yardley Multi-Sert, a direct replacement press-in metal insert for the discontinued Southco 71 and 72 series threaded inserts.
"Manufacturers using the discontinued Southco threaded metal inserts are searching for a replacement press-in insert that does not require a change in their manufacturing process," said Tim Bailey, President at Yardley Products. "Our Multi-Sert threaded insert line is a direct replacement for the Southco 71 and 72 series, is in-stock and readily available."
Yardley Multi-Sert inserts provide easy press-in installation, a counter bore design that prevents distortion of threads and guide screws, and are available in both zinc plated steel and stainless steel versions for corrosion resistance.
Multi-Sert press-in inserts are used in many applications including die cast and plastic parts, fiberglass, applications where the insert is swaged to metal tubing, and other applications where constant usage causes threads in soft materials to break down over time. The inserts can also be used with through-hole applications, allowing a bolt to enter into the insert from the opposite surface and engage with the threads.
In addition, the Multi-Sert threaded inserts feature a deep spiral, knurled body that locks tightly into the host material during insertion for a secure fit.
The Multi-Sert™ replaces discontinued Southco part numbers: 71-20-030-13, 71-1-132-13, 71-1-132-13, 71-1-232-13, 71-1-324-13, 71-1-332-13, 71-1-520-13, 71-1-618-13, 71-1-618-13, 72-1-440-13, 72-1-632-13, 72-1-832-13.
Yardley Multi-Sert metal inserts are available in both standard U.S. and metric threads in sizes ranging from .200" to .580" outside diameter. Yardley Multi-Sert Southco replacement threaded inserts are available for purchase online at http://www.yardleyproducts.com or by contacting Yardley Products toll free at 800-457-0154.
In addition to Multi-Sert press in threaded inserts, Yardley Products manufactures a full line of standard and custom press-in, molded-in, epoxied-in, self tapping, ultrasonic, and thermal inserts. For additional information, specifications or to request a quotation on larger quantities or custom manufactured inserts, call Yardley Products at 800-457-0154 or visit http://www.yardleyproducts.com.
About Yardley Products Corp.
Yardley Products is a manufacturer of precision engineered threaded metal inserts for a wide range of fastening applications. Yardley inserts feature designs that "lock" them securely into plastic, metal or wood base materials. Inserts are available for a variety of installation methods including molded-in, pressed-in, threaded-in, thermal, and ultrasonic vibration. Yardley Products offers a large inventory of more than 24 million inserts, fast delivery, and provides insert design and custom manufacturing.
PHOTOS:
A digital photo of a Yardley Multi-Sert is available at: http://www.yardleyproducts.com/multisert.jpg
###