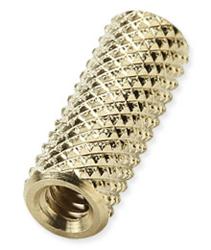 Using Yardley's insert for our t-bolt accessories saved us labor and allowed us to make a higher quality product
Yardley, Pa. (PRWEB) August 22, 2012
Yardley Products Corporation, a manufacturer of threaded metal insert fasteners recently completed delivery of an order of molded-in inserts to YakAttack, a kayak accessory manufacturer in Virginia. YakAttack approached Yardley as a potential OE supplier of molded-in inserts after noticing the quality of inserts from their off-shore supplier deteriorating.
"When we first started out, we were using inserts from overseas," said Luther Ciphers, founder of YakAttack, "but we realized you couldn't compare them to the quality of inserts made in the US." Yardley, who manufactures more than twenty standard series of threaded metal inserts, supplied YakAttack with recommendations and various samples for their t-bolt accessory line. Yardley advised YakAttack to use their Standardized Type BB molded-in insert and provided them with samples to test on their product prior to placing an order, assuring the best possible fit for their product.
The off-the-shelf insert was chosen based on the technical needs of YakAttack whose product called for an insert long enough to fasten a t-bolt into the accessory, while also permitting a molded-in installation method. The molded-in insert served as the attachment point to the t-bolt at the bottom of the accessories. The result was a t-bolt head strong enough to slip into a mount, allowing the accessories to attach to a kayak. The Type BB insert's inner thread design provided the snug fit necessary to assure the accessories' function and stability.
YakAttack is a manufacturer of kayak fishing accessories ranging from rigging products to visibility products. The manufacturer discovered Yardley Products while searching for inserts produced in the USA, looking for a higher quality insert for their accessories after purchasing inserts made in other countries for years. "We were able to order in lower volumes, which is hard to come across," said YakAttack founder Luther Ciphers, "and the pricing for their work is very competitive."
The kayak accessory manufacturer needed a high quality product that would be reliable, while simultaneously giving the product a clean appearance. The Yardley Standardized Type BB molded-in insert was responsible for the functionality of mounting the t-bolt accessory to the kayak, as well as cutting costs and labor with its simple molded-in installation method.
"Yardley provided us with free samples that met our specs and U.S. quality," said Ciphers. "Using their insert for our t-bolt accessories saved us labor and allowed us to make a higher quality product."
Yardley Products' Standardized Type BB molded-in inserts are available in custom or stock sizes. Available in brass, stainless steel, and non-magnetic brass, the molded-in inserts are designed with close thread tolerance to provide a snug fit on locating pins. To request a free sample or quote for Yardley Type BB inserts, visit http://www.yardleyproducts.com/contact.php or call Yardley Products toll free at 800-457-0154.
About YakAttack
YakAttack is a manufacturer of kayak accessories for kayak fisherman, with a wide range of kayak rigging accessories and safety products. Located in Farmville, VA, YakAttack manufactures mounting hardware for multiple kayak attachments, including fishing rods, safety flags, and cameras. For more information concerning YakAttack products, please contact Luther Ciphers at info(at)yakattack(dot)us.
About Yardley Products, Corp.
Yardley Products Corp., is a manufacturer of precision engineered threaded metal inserts for a wide range of fastening applications. Yardley inserts feature designs that "lock" them securely into plastic, metal or wood base materials. Inserts are available for a variety of installation methods including molded-in, pressed-in, threaded-in, thermal, and ultrasonic vibration. Yardley Products offers a large inventory of more than 24 million inserts, fast delivery, and provides insert design and custom manufacturing.