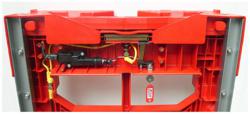 Yardley helped us experiment with our prototype models by allowing us to test multiple designs and inserts to find the best possible fit for our end product
Yardley, Pa. (PRWEB) September 28, 2012
When HTS Systems changed the chemical composition of the plastics used in their patented hand truck systems, they were faced with the unexpected challenge of finding a threaded metal insert that would hold securely in the new plastic material. They called upon Yardley Products Corporation, a manufacturer of threaded metal insert fasteners, to deliver a solution to the loosening of inserts in their products' electronics cover plates and solenoid actuators.
"Our original rigid plastic was changed to a smoother, more flexible plastic," said Carl Boettcher, CEO of HTS Systems, "so we lost grip power with our newer injection material and needed an insert with stronger hold to prevent them from turning from vibrations on the road."
Engineers at HTS Systems contacted Yardley Products looking for an insert with ultrasonic installation and higher grip capabilities to stay tightly placed within the smooth plastic. Yardley recommended changing from Yardley's Intro-Sert® inserts to Sharp-Sert® inserts, which have special curved hooks designed to lock firmly into softer materials like plastics.
"Originally, HTS Systems used our Intro-Sert® products which are designed with no sharp edges on their outer ribs," explained Steve Cashin, sales manager at Yardley Products. "That design prevents stress cracking in rigid plastics, so at the time, it was a good fit for HTS. With the change in plastic composition, our Sharp-Sert® inserts, which have curved hooks and lateral flutes designed to lock firmly into softer materials, became a better option."
"Yardley helped us experiment with our prototype models by allowing us to test multiple designs and inserts to find the best possible fit for our end product," said Boettcher. "Ultimately, we stayed with Yardley for quality and their understanding of how to best match a product solution with the plastics material challenge we faced." Upgrading to Yardley's Sharp-Sert® threaded metal fasteners with sharper ridges allowed a snugger fit in the new plastic compound, securing the actuator and cover plate tightly to the system's frame, resisting pull-out and torque amidst vibrations from road travel.
HTS Systems uses a total of nine metal inserts in their hand truck retaining systems, consisting of seven large and two small inserts. The larger inserts are used to connect the electronics' cover plate to the system, protecting the valuable electronic components such as the solenoid actuator, which sensors and triggers the latch movement. The two smaller inserts serve a vital purpose, securely mounting the actuator to the frame of the system.
Yardley Products' Sharp-Sert® threaded metal insert fasteners are designed for a strong hold in soft materials including soft plastics, particle board, and wood. The pressed-in and ultrasonic insert is designed with curved hooks to grip soft base materials, providing superior holding power and pull-out resistance. To request a free sample or quote for Yardley's Sharp-Sert® threaded metal insert fastener, visit http://www.yardleyproducts.com/request-sample or call Yardley Products toll free at 800-457-0154.
About Yardley Products, Corp.
Yardley Products Corp., is a manufacturer of precision engineered threaded metal inserts for a wide range of fastening applications. Yardley inserts feature designs that "lock" them securely into plastic, metal or wood base materials. Inserts are available for a variety of installation methods including molded-in, pressed-in, threaded-in, thermal, and ultrasonic vibration. Yardley Products offers a large inventory of more than 24 million inserts, fast delivery, and provides insert design and custom manufacturing.
About HTS Systems
HTS Systems is a manufacturer of the patented Hand Truck Sentry System, a mechanical retaining apparatus designed to safely and securely hold and transport delivery hand trucks aboard the exterior of commercial delivery vehicles. HTS Systems' products are designed to prevent drivers from leaving their and trucks behind at delivery stops, as well as eliminate the dangers of hand trucks falling onto roads during transportation. To learn more about HTS Systems, visit their website at http://www.handtrucksystems.com/ , visit their YouTube Channel at http://www.youtube.com/user/HTSSystems, or contact HTS Systems at info(at)handtrucksystems.com.