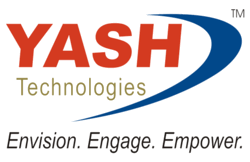 Woburn, MA (PRWEB) January 22, 2013
YASH Technologies, a leading technology services and outsourcing partner for global companies, announced today that ServicesOne, a new qualified SAP Business All-in-One partner solution developed by YASH, is now available to midsize professional services companies. This preconfigured, out-of-the box solution allows professional services companies to improve operations and deliver exceptional client value by utilizing the following key features:

Easily access accurate operational and financial metrics
Readily identify critical Key Performance Indicators related to customer and engagement profitability
Extensive reusable documentation that can be leveraged for testing and training
Designed for rapid implementation utilizing YASH's S-Imple (Streamlined Implementations) methodology, ServicesOne includes preconfigured business scenarios that help get businesses up and running fast, within a matter of weeks. ServicesOne helps decision makers optimize operational functions through more efficient technology, supporting key professional services business processes such as projects and resources, time and expenses, service order management, financials and billing, and analytics and reporting.
"Streamlining essential business processes in any organization is vital to its success, especially for small and midsized organizations," comments Jacinto Arauz, vice president of sales for YASH's reseller division. "ServicesOne is the affordable foundation that will support organizational transformations, and will deliver financial and strategic advantages for services business models."
Qualified SAP Business All-in-One partner solutions like ServicesOne are preconfigured, industry-specific versions of the SAP ERP application combined with SAP Best Practices offerings, enabling streamlined operations, lower costs and a proven path to growth. ServicesOne enables midsized companies to continuously meet evolving customer expectations, compliance to billing and revenue recognition, and better manage core functions and processes. It delivers a comprehensive set of business functionalities with little or no customization required. This means minimal disruption to daily operations during installation, and maximum return on investment. SAP Business All-in-One partner solutions are qualified by SAP and developed, sold and supported by SAP channel partners as a defined-scope implementation with consulting services, and offer the flexibility to accommodate the unique business needs of each customer.
ServicesOne is the latest qualified SAP Business All-in-One partner solution developed by YASH. Other comprehensive solutions include PeopleOne, ManufacturingOne, ChemOne, TechOne, WholesaleOne, CPGOne, and FinancialsOne.
For more information please visit http://www.yash.com/aio or email info@yash.com.
About YASH Technologies
YASH Technologies focuses on customer success. As a leading technology services and outsourcing partner for medium and large global customers, we leverage technology and our flexible delivery models to drive performance and business value throughout a customer's enterprise. YASH's comprehensive service approach incorporates a holistic view of our customers that extends beyond delivery. This approach integrates enterprise solutions and services, proprietary best practice offerings, strategic application and maintenance outsourcing, as well as consulting and integration services. YASH is a SEI CMMI (Level 3) and an ISO 9001:2000 certified company with U.S. and India headquarters and regional sales and development offices spread across four continents. For more information, please visit http://www.yash.com or email info(at)yash(dot)com.
####
SAP and all SAP logos are trademarks or registered trademarks of SAP AG in Germany and in several other countries.
All other product and service names mentioned are the trademarks of their respective companies.