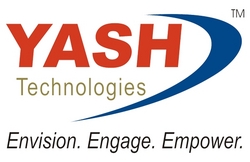 East Moline, IL (PRWEB) March 16, 2010
YASH Technologies™, a leading technology services and outsourcing partner for global companies, announced today that it has partnered with renowned author David G. Thomson, to host an exclusive webinar to address how American companies are positioning to lead the next wave of growth cycles. The webinar entitled, "What Does it Take to Become a Leader for the Next Growth Cycle," will be Tuesday, March 23rd, at 1 pm EST, and will feature special guest speaker David G. Thomson, author of Blueprint to a Billion, 7 Essentials of High-Growth Companies.
Attendees of this complimentary webinar will be given powerful data and tools to ascertain their company's potential for sustainable growth:

Discover which industries are leading the next growth cycle, the typical company profile, and the metrics needed to benchmark growth aspirations and performance
Learn the latest actions and lessons from recent interviews with growth company CEOs, featured in Thomson's upcoming book, Mastering the 7 Essentials of High-Growth Companies
Recent findings by Thomson have identified an 8th-like essential. High-growth companies are balancing cash flow with investing in infrastructure. Discover how to invest in technology to set the stage for growth and balance returns to shareholders
As a bonus gift, a limited number of attendees will receive David G. Thomson's second book, Mastering the 7 Essentials for High-growth Companies, prior to being publically released. Registration is required for this event. To register for the webinar, visit http://www.yash.com/news-events/webinars/yash-webinars.php. Seating is limited for this exclusive webinar.
About David G. Thomson
David G. Thomson is a best-selling author, advisor and speaker. He is Founder and Chairman of The Blueprint Growth Institute, a specialized management-consulting firm focused on helping companies develop growth strategies and execute the 7 Essentials. His insights that have identified the success patterns of America's highest growth companies have been featured in BusinessWeek, CNBC, Investor's Business Daily, SKY TV, The Korean Economic Daily and the NY Times. Visit http://www.blueprintgrowth.com for more information.
About YASH Technologies
YASH Technologies focuses on customer success. As a leading technology services and outsourcing partner for medium and large global customers, we leverage technology and our flexible delivery models to drive performance and business value throughout a customer's enterprise. YASH's comprehensive service approach incorporates a holistic view of our customers that extends beyond delivery. This approach integrates enterprise solutions and services, proprietary best practice offerings, strategic application and maintenance outsourcing, as well as consulting and integration services. YASH is a SEI CMMI (Level 3) and an ISO 9001:2000 certified company with U.S. and India headquarters and regional sales and development offices spread across three continents. For more information, please visit http://www.yash.com or email info@yash.com.
###