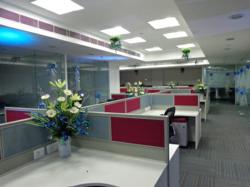 Indore, Madhya Pradesh, India (PRWEB) November 29, 2012
Leading technology services and outsourcing partner for global companies, YASH Technologies, today announced the opening of an additional development center within India, located in the National Capital Region (NCR) of Gurgaon, Haryana, India. The center, located at 05th Floor, Welldone Tech Park, Sohna Road, Sector 48, Gurgaon, was inaugurated on November 23, 2012 with honored guests including YASH leadership, officials, and customers.
"The intense growth in India has been pivotal for YASH's global strategy as we continue to make large investments in this geography," comments Mr. Manoj Baheti, president and CEO, YASH Technologies. "We anticipate that the Asia Pacific market as a whole will contribute significantly to our overall revenue targets in 2013 and beyond."
YASH has been evaluating the NCR Gurgaon region for the past year because of this area's growing importance for multinational companies. Gurgaon is well known as a modernized, industrial hub for IT and software development, making it a prime location for YASH's new development center in India. The facility houses state-of-the-art technology and equipment and accommodates over 60 consultants. The company plans to expand that capacity to 100 consultants in the following nine to twelve months.
"With the recent opening of our largest development center in Hyderabad, Andhra Pradesh, in June, we are delighted to have the NCR Gurgaon center open just a few short months later," said Mr. Kirti Baheti, managing director, YASH Technologies.
Mr. Bala Navuluri, COO, YASH Technologies, said, "The NCR Gurgaon region has a highly talented workforce pool, solid infrastructure and amenities, and close proximity to New Delhi where we are seeing tremendous growth. These advantages, among others, made this a logical location for YASH's expansion."
YASH's additional development centers in India are located in Indore, Mumbai, Bangalore, as well as, two facilities in Pune and two facilities in Hyderabad.
For more information please visit http://www.yash.com or email info(at)yash(dot)com.
About YASH Technologies
YASH Technologies focuses on customer success. As a leading technology services and outsourcing partner for medium and large global customers, we leverage technology and our flexible delivery models to drive performance and business value throughout a customer's enterprise. YASH's comprehensive service approach incorporates a holistic view of our customers that extends beyond delivery. This approach integrates enterprise solutions and services, proprietary best practice offerings, strategic application and maintenance outsourcing, as well as consulting and integration services. YASH is a SEI CMMI (Level 3) and an ISO 9001:2008 certified company with U.S. and India headquarters and regional sales and development offices spread across four continents. For more information, please visit http://www.yash.com or email info(at)yash(dot)com.
####