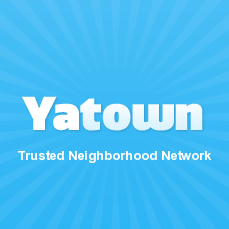 Yatown is going deep with these communities to spark high engagement
Palo Alto, CA (PRWEB) June 16, 2011
Hyperlocal neighborhood social network Yatown announced today that it is opening up "backdoor" access for all members of selected neighborhoods across the U.S. For a limited time, users in these neighborhoods will be able to log in and access a read-only version of the service, without having to create their own account first.
"Our goal is to encourage full participation by people in these neighborhoods," said Christopher Nguyen, Yatown's CEO. "A community site is much more interesting and helpful to its members when there is a critical mass of engagement," he added. By opening up the site for a "sneak preview" by everyone in a given neighborhood, Yatown is going deep with these communities to spark this engagement.
When asked how users in these neighborhoods can access the service, Nguyen says, "Starting today, people will receive invitations in the mail," adding, "We also have friends and volunteers who live in these neighborhoods, who are classified as 'Trusted Neighbors'. They will interact with the new users and help guide them along."
In the future, Yatown also plans to roll out certain key new features first with these "saturated" neighborhoods. "There are very valuable community features and services on our roadmap that only make sense when there are lots of Yatown users in the neighborhood," said Nguyen. "So it makes sense for us to launch such features in these neighborhoods first, listen to those users for feedback, before launching them globally."
Yatown, positioned as "The Trusted Neighborhood Network" was founded in 2010 by Christopher Nguyen and Kevin Lim. With the mission "To Connect Neighbors and Strengthen Communities" the company aims to help neighbors connect and share information online, with an emphasis on trust and social responsibility. Unlike Facebook, LinkedIn, and other social networking sites, the service focusses on the hyperlocal neighborhood space. Christopher Nguyen is a former engineering director at Google. For more background on the company, see http://yatown.com/about/us.
###