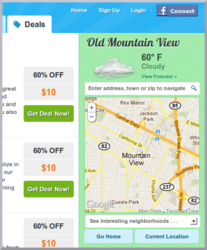 With one click, Yatown users can share the offer with other neighbors
Palo Alto, CA (PRWEB) July 22, 2011
Yatown announced Friday that it is introducing "Neighborhood Deals" to users of its neighborhood social network service. The startup says it aims to differentiate this service in the crowded "daily deals" space in two ways. "We want our users to get offers that are (1) immediately useful to them, and (2) from local businesses around their neighborhoods," said Christopher Nguyen, Yatown's CEO.
Indeed, users going to Yatown Deals immediately arrive at a page showing discounted offers from restaurants, retailers, and services around their neighborhood. The site detects the user's location by IP address, which can sometimes be incorrect. If that happens, users can type their location in a Google Maps input box, hit enter, and that neighborhood's deals come up quickly enough.
"Services like Groupon and LivingSocial have an entirely different focus," Nguyen said. "They tend to specialize in those 'unique' or 'interesting' purchases, and the offers are regional or city-wide in nature." Nguyen says Yatown's users, who have a neighborhood mindset, want things they can use today, around the neighborhood, like discounts to a neighborhood restaurant. "And with one click, Yatown users can share the offer with other neighbors," he added.
A visit today to http://yatown.com/deals/Mountain-View,CA shows no fewer than 7 offers from restaurants in the popular Castro Street area, and dozens more in nearby Los Altos and Sunnyvale. The "Events" section shows tickets for numerous upcoming events at the Shoreline Amphitheater, while the "Travel" sections has a few hotel and resort offers from nearby San Jose, perhaps best catered towards "staycations".
According to Nguyen, Yatown does not source the deals directly from local merchants. "We work with partners like Restaurant.com, BuyWithMe, TicketLiquidator, etc." he said. "The value we add as a neighborhood service is to filter and organize these offers for every neighborhood across America, so our users can easily find and take advantage of them." According to Yatown's testing, users have found finding the restaurant offers with Yatown's map interface "even easier to use than the search tools available in the original deal source site."
Yatown, which bills itself as "The Trusted Neighborhood Network", was founded in 2010. With the mission "To Connect Neighbors and Strengthen Communities," the company aims to help neighbors connect and share information online, with an emphasis on trust and social responsibility. Unlike Facebook, LinkedIn, Google+, and other social networking sites, the service focusses on the hyperlocal neighborhood space. Christopher Nguyen is a former engineering director at Google.
###