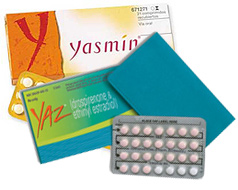 The law firm is here to help women who have been harmed by Yaz, Yasmin, and Ocella. Call today for a complimentary evaluation.
Houston, TX (PRWEB) January 02, 2013
National law firm McDonaldWorley.com is offering free legal reviews to women who may have been affected by blood clots after taking Yaz, Yasmin, and Ocella. Over the past several years, the FDA has published studies linking the use of these oral contraceptives to increased risk of blood clots and related injuries. Free legal consultations are being made available to determine the eligibility of any woman who feels they have a claim.
Women who have suffered complications while taking the medications may not have been adequately warned of alleged side effects and are encouraged to contact the firm immediately as time is limited for them to file a claim.
Several studies have been released purporting the risks associated with the drug drospirenone (the active ingredient in Yaz, Yasmin, and Ocella) and possible blood clotting, the FDA conducted their own studies which led to the issuing of a health advisory warning.
On October 27, 2011 an FDA released report revealed women who took the oral contraceptive drospirenone had a 74% increased risk of blood clotting versus women who took an alternative oral contraceptive levonorgestel.
Based on these findings, the FDA has required the manufacturer of the medications to modify their packaging to include a warning regarding the increased risk of blood clot related injuries associated with drospirenone contraceptives.
Later, it was reported Bayer AG had omitted critical findings in its white paper that was submitted to the FDA as part of the New Drug Application for Yasmin in 2004, according to Bloomberg News. The omission was related to Bayer's own findings that the risk of deep vein thrombosis in those taking Yasmin was 10 times greater than those not taking the contraceptive.
FDA Commissioner David Kessler was quoted stating, "Had I, or a medical review officer, known these facts prior to approval, further investigation would be warranted before a decision on Yasmin's NDA (new drug application) could be made."
Attorneys at McDonaldWorley.com are offering legal consultations to women who may not have been warned of the risks in taking the birth control drugs Yaz, Yasmin, and Ocella. For a limited time, the firm is offering free consultations for women who feel they have a legal claim.
About McDonaldWorley.com:
The lawyers have extensive experience with drug side effects injuries and a lead attorney with the firm is a former ICU nurse with medical experience. Case evaluations are completely secure, and confidential, and being offered for a limited time to women who suffered blood clots or other complications. Click here now to take advantage of the free legal review: http://www.mcdonaldworley.com/yaz-side-effects-lawyer.htm