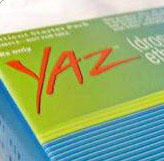 The FDA announced it was requiring a label change for drugs such as Yaz.
Orlando, FL (PRWEB) April 19, 2012
As reports indicate drug maker Bayer has started settling some of the estimated 10,000 lawsuits filed over alleged side effects from its oral contraceptives Yaz and Yasmin, the FDA stepped in this month to order more protection for potential users of the drugs.
On April 10, 2012, the FDA announced it was requiring a label change for drugs such as Yaz which contain the chemical drospirenone, warning that the chemical may be associated with a higher risk for blood clots.
According to an April 13, 2012 Bloomberg article, Yaz is still the fourth most popular oral contraceptive, earning Bayer over $1.5 billion in 2010 with prescriptions to millions of women.
Several studies have indicated the blood clots associated with the drug may be linked to an increased risk of stroke, deep vein thrombosis and pulmonary embolism injuries to the lungs.
In 2009, The British Medical Journal published research from Denmark and the Netherlands linking the chemical drospirenone in Yaz to an increased risk of blood clots, a contributing factor for stroke.
In October, 2011, the FDA released a study of more than 800,000 women taking oral contraceptives which showed that those taking drugs like Yaz had a 74% increased risk of developing blood clots.
A federal Multi-District Litigation court in Illinois set up to handle lawsuits filed over alleged Yaz side effects has reported more than 10,000 cases filed. The formal case is known as Yasmin and Yaz (Drospirenone) Marketing, Sales Practices and Products Liability Litigation (MDL No. 2100).
Bloomberg's April 13, 2012 article also reported that the annual report released by Bayer on February 13, 2012 announced that the company has now settled at least 70 cases. No details or amounts of the settlements were given and the company has not admitted any fault. http://www.annualreport2011.bayer.com/en/bayer-annual-report-2011.pdfx
According to the FDA warning, those taking Yaz are encouraged to talk with their physician before making any changes to their prescription.
Lawyers are still helping those who have suffered a side effect after taking Yaz learn about their legal rights. However, they caution that time may be limited. YazLawsuit.com contains more information on the lawyers currently settling Yaz lawsuits, FDA warnings and research related to the drug.