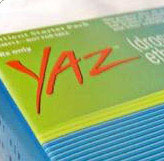 Bayer Pharmaceuticals may be close to settling more of the outstanding cases.
Dallas, TX (PRWEB) May 02, 2012
The Yaz Resource Center, a patient advocacy group, is alerting all women who have suffered a side effect after taking the birth control drug Yaz that Bayer Pharmaceuticals may be close to settling more of the outstanding cases.
The Resource Center cautions that while this may be good news for victims who have filed a case, it could mean a limited time for those who have not taken action.
According to a federal Multi-District Litigation court in Illinois set up to handle Yaz lawsuits, nearly 11,000 cases have been filed. The formal case is known as Yasmin and Yaz (Drospirenone) Marketing, Sales Practices and Products Liability Litigation (MDL No. 2100).
Thousands of women came forward after studies in Europe and the United States linked the popular birth control drugs to blood clots, which can cause stroke, Deep Vein Thrombosis, and Pulmonary Embolism.
Bloomberg News reported on April 13, 2012 that Bayer had recently decided to pay approximately $110 million to settle 500 of the lawsuits, or around $220,000 per case. The decision reportedly came after three months of settlement negotiations. There is no information on the specific value of each case, nor has the company admitted any liability.
In 2009, The British Medical Journal published research from Denmark and the Netherlands linking the chemical drospirenone in Yaz to an increased risk of blood clots, a contributing factor for stroke, DVT and pulmonary embolism.
Last October, the FDA followed up with the release of a study of more than 825,000 women taking oral contraceptives. That study indicated women taking drugs like Yaz containing the chemical drospirenone had a 74% increased risk of developing blood clots. On April 10th the FDA announced they would require a new warning label on these drugs.
The Yaz Resource Center cautions that with so many cases, only certain lawyers may be able to obtain settlement of a victim's Yaz lawsuit. The Resource Center only recommends lawyers who are already settling Yaz lawsuits.
Anyone affected by stroke, DVT or pulmonary embolism after taking Yaz should learn their legal rights today.
For more information on research, side effects and litigation news related to the drug Yaz, or to speak with a lawyer visit http://www.YazLawsuit.com.