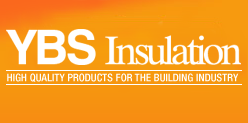 INSULATION FOR ROOFS, WALLS AND FLOORS!
(PRWEB) December 17, 2013
Specialist retailer YBS Insulation has just launched a new product guide, which should help building contractors when it comes to picking the best materials for the job. The company claim that it is one of the most comprehensive guides of its kind available on the market.
The guide breaks down all of the major areas of the home that require insulation, and highlights key products in each section. This includes materials for the roof, wall, floor, cavities, and ducts - all places which are renowned for leaking heat and letting cool air indoors.
YBS Insulation's handy guide will be used by professional tradesmen who are working on home insulation jobs. It will allow them the freedom to choose products based on budget, energy efficiency and house construction.
Managing Director Chris Woodhall said: "YBS Insulation are committed to manufacturing insulation products to the very highest quality, which incorporate the utmost levels of innovative design criteria. As we have been in operation since 1994, it means we have a great insight into the products available on the market. We have used our knowledge to create the new product guide, which customers should find incredibly helpful when searching online."
The product guide joins a line of other guides that can be downloaded from the YBS Insulation website (ybsinsulation.com), including specific details for individual products in their range. Customers will also be able to find further information in the product overview area, as well as reading technical details such as certifications and building regulations.
Mr Woodhall continued: "The new product guide can be found online, however some customers might like to save it to their computer or smartphone for ease of access in the future. However customers usually come back to our website to read the rest of the guides we have available."
Customers are now able to view the guide by visiting http://www.ybsinsulation.com and clicking on the link on the homepage.
About the company
YBS Insulation is a leading manufacturer of insulation materials in the UK. They have been supplying high quality insulation products to the building industry since 1994, and have put quality and innovation at the forefront of what they do for 17 years. YBS distribute insulation products all around the world; more information about this can be found on their website (ybsinsulation.com).
Contact Information-
Contact Name: Chris Woodhall
Business Name: YBS Insulation
Contact Email: sales(at)ybsinsulation(dot)com
Contact Tel: 0844 99 100 44
Address: The Crags Industrial Park
Morven Street, Creswell
Derbyshire, S80 4AJ
Social Presence-
Twitter: https://twitter.com/YBSInsulation
Facebook:https://www.facebook.com/pages/YBS-Insulation/210515665654640