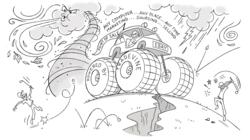 Being a great observer will help you adapt to every situation, be better friends with all types of people, run your business better, heighten your relationships, and better your life.
Saint George, UT (PRWEB) June 25, 2012
Whiteboard Animation Ted Talk Series: TedxSunriver Ted Talk "How to be a Great Observer"
Did You Get the Most out of Your Whiteboard Animation Video Experience?
Paul Draper is a skilled anthropologist, and spends most of his time performing and entertaining audiences as a mentalist and magician.
Why be great observers?
If a person is a great observer, they can see things others can't, they can be better business people, sales people, better friends, and soak in more valuable information.
Why are human's perceptions limited?
If a person straightens their arm so it is out in front of them, and gives themselves a thumbs up, they can see their legal vision area.. Believe it or not, people can only perfectly see what's in front of their thumbnail. Everything else besides the thumbnail that a person can see is not in perfect line of vision.
Selective Vision is a Human's Weakness
People tend to gloss over things they feel are not important, and develop "selective vision" as they get older. Even if something is in the line of site, and a person doesn't think it has any importance to them, they will miss it.
Humans have evolved to soak in everything and learn until the age of 30. After the age of 30 the brain geared to stop processing information, and by nature people are more susceptible to following the routines they learned up to this age. This is the fallible time for the brain. It then makes assumptions about reality, that it will repeat itself and be the same as when it was young. It is essential people learn how to learn how to overcome this, and always train the brain to constantly grow, even after age 30.
As an anthropologist, Draper studies cultures and people. He has to learn how to think like them, act like them, and fit in with all different types of people.
To learn how to be a great observer and get the best learning experience in every situation, one have to learn how to be like the people they are around. One has to teach oneself to be like a child. Convince oneself that everything they do is wrong, and everything the outside people do is right. Being like a child will help a person put themselves in the shoes of the people around them. To learn how to do this, there are three key points to remember:
First, the first two weeks in a new environment, write down everything seen. 90% of the notes people take are derived in the first two weeks that someone is provided a new situation.
Whiteboard Animation Challenge #1: Watch the attached short whiteboard animation video and write down all the key points that have an impact. Further instructions are found below.
Second, to think like a child, a person has to imagine that each time they are in a new environment, they are seeing it for the first time. This will change the way things are seen in a person's eyes, and allow them to stay curious with things or places they are familiar with.
Whiteboard Animation Challenge #2: Look at the attached script video drawing for 10 seconds. Take note on what is noticed the most. Read the rest of the article, and go to the next challenge.
Third, to be a great observer a person must try to see everything. Keeping the eyes open to surroundings will help someone be a great observer, because by nature people tend to gloss over things that they think are not important, but there is always something new to learn and beautiful to take out of every time and place.
Whiteboard Animation Challenge #3: Re-watch the whiteboard animation video from challenge #1, are there any aspects of the video, whether it be visual or informational, that did not get picked up the first time? Now go to the video scribed picture from challenge #2 and observe it for 20 seconds. Are there any parts of the picture that did not catch the eye at first glance?
Being a great observer will help a person adapt to every situation, be better friends with all types of people, run a business better, heighten relationships, and better life. Every situation whether old or new has something great to offer, something good to teach, something never learned. Did you get the most out of this whiteboard animation video experience?