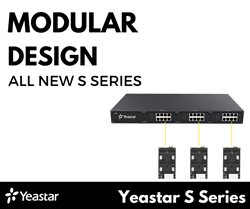 "For 10 years Yeastar has been manufacturing industry leading, and affordable solutions, and we have done it again with the S-Series." - Stephen Corrigan, Yeastar Vice President of Sales
Xiamen, China / Dallas, TX (PRWEB) June 01, 2016
Yeastar, a leading manufacturer of VoIP PBX systems and VoIP Gateways, announced today the launch of the all-new S-Series VoIP PBX systems for small and medium enterprises (SME) with up to 500 users. The S-Series represents the latest in technology and usability, providing Yeastar partners with an affordable, flexible and profitable system that meets the needs of growing SME's.
The Yeastar S-Series is built from the ground-up for real-world performance, utilizing industry leading components and an innovative field-upgradeable design that makes rip and replace a thing of the past. The Yeastar S-Series VoIP PBX systems also showcase a new, intuitive user interface that streamlines setup and ongoing system management.
"For 10 years Yeastar has been manufacturing industry leading, and affordable solutions, and we have done it again with the S-Series," said Stephen Corrigan, Yeastar Vice President of Sales. "Built using the latest in processing technology, Yeastar is again setting new standards in price and performance metrics, keeping to our core values of providing affordable, dependable and innovative communications systems to the SME customer."
Available today through Yeastar distributors and channel partners worldwide, S-Series VoIP PBX systems tout:

No Maintenance Fees: All S-Series systems are Plug 'n Play and ready to be used immediately. Features and firmware updates are free, with no maintenance fees, ever. The new Yeastar app store allow users to customize and extend the capabilities of the S-Series, enabling options such as LDAP, auto provisioning support, and much more.
Built for Performance: Industry leading components including Texas Instruments Voice Processors, Freescale ARM A9 industrial grade Quad Core CPU, increased RAM, and Samsung Flash Memory. Built-in PBX failover when two S-Series PBX's are combined in a active passive mode.
Field Upgradable: Easy to install color coded FXO, FXS, SIP, ISDN BRI, E1/T1/PRI, GSM/CDMA/3G/UTMS modules provide the ability to increase the number of users, concurrent call capacity, and change the type of telephony connection as required.
Scalable by Design: The S100 and S300 models include the capacity to scale the number of registered extensions from 100 to 200, and from 300 to 500 respectively.
Enhanced System Security: All S-Series VoIP PBX systems include a built-in firewall for protection against hackers, eavesdropping, and viruses. Pin Protection, IP restrictions, TLS, and SRTP encryption, automatic DDOS attack detection, incorrect entry login jails, and the ability to block local or international area codes to safeguard against malicious and fraudulent intent.
The Yeastar S-Series is comprised of four models, each supporting an increasing number of extensions and concurrent calls:
Yeastar S20 VoIP PBX: 20 users, 10 concurrent calls
Yeastar S50 VoIP PBX: 50 users, 25 concurrent calls
Yeastar S100 VoIP PBX: 100-200 users (expandable), 30-60 concurrent calls (expandable)
Yeastar S300 VoIP PBX: 300-500 users (expandable), 60-120 concurrent calls (expandable)
For more information about Yeastar S-Series VoIP PBX systems or to become an Authorized Partner, please visit http://www.yeastar.com.
About Yeastar
Yeastar specializes in the design and development of innovative telecommunications equipment, including VoIP PBX systems and VoIP gateways for SMB's and SME's. Founded in 2006, Yeastar has established itself as a global leader in the telecommunications industry with a global partner network and over 100,000 customers worldwide. Yeastar products have been consistently recognized in the industry for their high-performance and innovation. For more information about Yeastar or to become a Yeastar partner, please visit http://www.Yeastar.com.